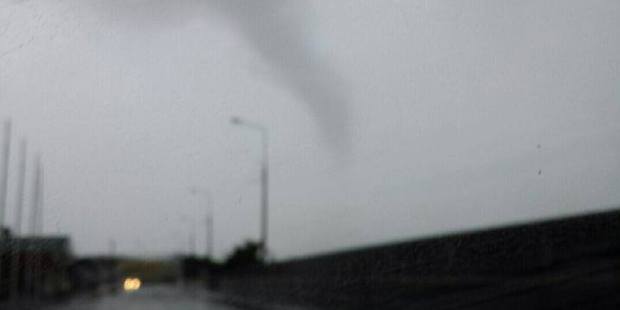 Did you see the destruction? Email news@hos.co.nz
A tornado has ripped through Greymouth this afternoon, tearing off a roof and damaging up to 10 properties.
Fire Service southern communications shift manager Tim Reynolds said the fire service responded calls after the destructive winds hit south western suburb of Blaketown shortly before 5pm.
No one had been reported injured, he said.
A roof had lifted off one house and other homes suffered water damage.
Greymouth resident Sarah Shaw and her husband were driving past Mawhera Quay in Blaketown when the tornado hit some distance away.
"I just looked up and happened to notice it and said to my husband 'look at that cloud. Is that a tornado or a water spout?
"Then we saw heaps of debris flying through the air so we knew it was. It looked like bits of wood or maybe roofing iron were being tossed around."
Power was out at her house for a short time but had since come back on.
Greymouth Mayor Tony Kokshoorn said three houses were evacuated and a further four homes suffered lesser damage. This evening it was raining heavily and emergency services were in mop up mode.
O'Grady St resident Ian Coates said the fierce twister wreaked havoc in his street.
"There's damage all around the place," said Coates.
One property had lost their new garage - the second the time householders had significant tornado damage after their house roof was torn off in a previous twister.
Coates said windows were blown out when the fierce winds struck and iron sheets were wrapped around telephone poles.
Westpower manager general manager of assets and utilities Rodger Griffiths said large parts of Greymouth lost electricity when the storm hit, but they were reconnected within an hour.
"We had the weather damage in Blaketown and it tripped the brake and the other parts of town went out but we got them all back pretty quickly ," Mr Griffiths said
"Yes we have about 50 residents in the south end of Blaketown who are still without power but other than that pretty much anyone with a roof has their electricity back on,"
"We can't connect some properties as it would be hazardous to do so without a roof," Mr Griffiths said.
Lines had come down were O'Grady and Doyle roads and Clarke Quay, he said.
Mr Griffiths said there were reports of sparks flying and fireworks in the air, caused by flying debris connecting with live wires.