100-gun salute in Wellington will mark 100 years since the outbreak of WWI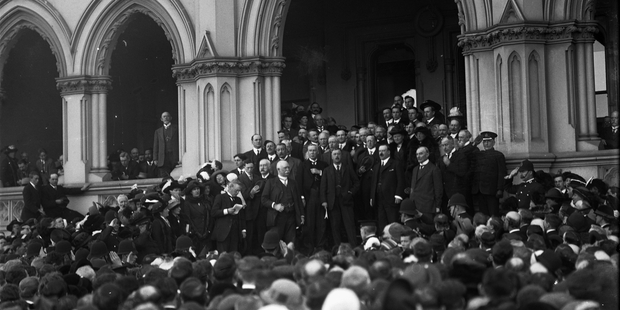 One hundred years ago on Tuesday, a tense crowd of 12,000 gathered at Parliament to hear confirmation of what they already knew - the young nation of New Zealand was going to war.
The Governor-General of New Zealand, Lord Liverpool, announced the news from the steps of Parliament at 3pm on August 5, 1914.
Young men in dark suits cheered, hugged strangers, and jostled to sign up to the war effort with a patriotic fervour and keen sense of duty.
Read also:
• First war fallen deserves military grave, say family
• NZ on Screen: Commemorating WWI
They believed they would romp to victory over the "Boche" and be "home by Christmas".
That night, several thousand boisterous youths marched rowdily from Wellington's Post Office Square to the Drill Hall on Buckle St, led by the Tramways Band.
The film Proclamation of War screened in Wellington cinemas.
Across the country, Union Jacks were waved at impromptu street rallies.
The masses embraced New Zealand's first opportunity to come together and act on an international stage.
But no one foresaw the horrors and bloodshed that lay ahead of them in the trenches of Gallipoli and on Europe's Western Front.
Five years later, there was little flag-waving.
A total of 100,000 New Zealand men signed up to fight for King and Country in the Great War of 1914-18. Eighteen thousand wouldn't come home, buried in foreign fields. A further 40,000 were wounded.
Watch: Wilfred Smith lost all five brothers during World War I

On Monday morning, the sky above Wellington will be filled with the sound and smoke of a 100-gun salute lasting for up to nine minutes, to mark 100 years since the outbreak of World War I.
A national ceremony is being held at the Parliament Buildings grounds at 9am. After a reading of the 1914 announcement of war by broadcaster Hewitt Humphrey, Prime Minister John Key and Leader of the Opposition David Cunliffe will offer some words.
About 9.20am, 10 105mm Howitzer guns, which each have a range of more than 11km, will unleash the 100-gun salute from the waterfront in front of Te Papa.
Blank ammunition and reduced charges will be used. Defence Force personnel will be handing out ear protection to those nearby.
Technology then and now: How war has evolved in the last 100 years.
It will be the first time a salute of this magnitude has been fired in more than 100 years - a 101-gun salute was fired in 1911 to mark the coronation of King George V.
The salute will be followed by national anthems, God Defend New Zealand and God Save the Queen.
The Last Post will be played and the flags lowered to half mast by Defence Force members, dressed in replica World War I uniforms.
Three personnel from the army, navy and air force will be represented in present-day combat uniform.
The Ode will then be read in Maori by Warrant Officer Class Two Tama Andrew, followed by RSA national president Don McIver.
"The simple words of The Ode continue to stir emotions and reinforce to all that the sacrifices our men and women made will not be forgotten. We will remember them," Mr McIver said.
It will be followed by one minute's silence, concluded by a drum roll.
Members of the official party will place the final crosses in a field of 100 crosses on Parliament lawn.
Earlier at 6.45am, the top brass of the army, navy and air force laid wreaths at the Tomb of the Unknown Warrior at the National War Memorial in Buckle St.
Mr McIver said 100 years ago few Kiwis could have imagined the magnitude of the trauma to come, or the lasting impact it would have on our nation. It was the birth of a nation.
"We were tested and we discovered the bonds that make us unique. New Zealand gained a sense of self."
Life in the trenches

The Great War
June 28, 1914: Assassination of Archduke Franz Ferdinand triggers build-up to war.
August 4: Britain declares war on Germany. New Zealand receives the news at 1pm on August 5 (NZ time) and promptly joins the war.
August 29: NZ forces capture German Samoa.
April 25, 1915: Kiwi troops land at Gallipoli.
December 15-20: Troops pulled out after disastrous Gallipoli campaign that cost NZ 2721 lives.
August 1, 1916: Conscription introduced in New Zealand by the Military Service Act.
June 7, 1917: Battle of Messines. The NZ Division takes all its objectives, but suffers 3700 casualties, including 700 dead.
October 12: The Battle of Passchendaele: NZ's blackest day, with 800 dead.
November 11, 1918: Armistice Day. The guns finally fall silent and the war is over.
Source: NZ History Online
Lord Liverpool's declaration
"I have received a telegram today, and I am going to read it very slowly indeed. I am commanded by His Majesty the King to read to you the following message:
'I desire to express to my people of the Overseas Dominions with what appreciation and pride I have received the messages from their respective Governments during the last few days. These spontaneous assurances of their fullest support recall to me the generous self-sacrificing help given by them in the past to the Mother Country. I shall be strengthened in the discharge of the great responsibilities which rest upon me by the confident belief that in this time of trial my Empire will stand united, calm, resolute, trusting in God.
(signed) George, R.I.'
"To that message I have sent the following reply:
"New Zealand desires me to acknowledge Your Majesty's Gracious message, and to say that, come good or ill, she, in company with the Dominions and other Dependencies of the Crown, is prepared to make any sacrifice to maintain her heritage and her birthright.
"Fellow subjects: Since I sent out that notice to you this morning I have got another telegram. It is very short. I will read it to you:
'WAR HAS BROKEN OUT WITH GERMANY'."