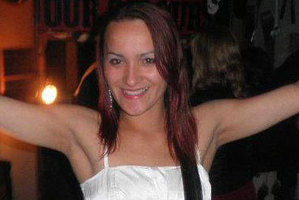 Sina Solomona wouldn't have been surprised to see 15-year old Bronson Kelekolio at her door at 2.30am.
She regarded him as a little brother -- a member of her large, extended family. But the 22-year mother of a toddler would have been terrified when the teen attacked her from behind.
He plunged the blue-handled boning knife into her neck on the backdoor step of her Ashburton home as she went outside for a cigarette.
Miss Solomona fell to the ground.
Kelekolio stabbed her a further 13 times in the face and head with such force that the blade broke in half, with the tip remaining embedded in her skull.
He then sexually violated her -- an action that a judge who sentenced him to life imprisonment with a minimum non-parole period of 14 years and six months today felt was the motivation for the brutal slaying.
Kelekolio then got a second blade -- a serrated-edged bread knife -- from her kitchen and cut her throat.
Kelekolio, now aged 17, can be named for the first time today.
The youth was spotted at the scene by a police officer covered in blood.
When he was interviewed by detectives, he claimed to have found Miss Solomona wounded but alive that night and that a man had threatened him at knifepoint.
He named a local man, who was questioned by police, but cleared after he provided an alibi. There was no forensic evidence to link him to the crime.
DNA found on Miss Solomona's body matched Kelekolio's profile and he was arrested.
He later admitted the bloody murder of Sina Nerisa Solomona at her Cass St home on December 15, 2012.
But the court heard today that he has never talked about why he did what he did.
Justice Graham Panckhurst suggested it was sexually motivated.
Crown prosecutor Andrew McRae said Kelekolio had shown "very little remorse".
There were gasps of "yes" from the packed public gallery when the sentence of 14 years, six months was handed down.
Miss Solomona's mother Amuella Solomona gave an emotional victim impact statement which told of having a "broken heart".
"When this happened to my daughter, I felt numb, lost for words, and made me think I was to blame for this," she said.
"My heart is in pain. I can feel the anger in my kids."
Sina's twin sister Loretta Solomona said her sister's slaying was something she and the Ashburton community would "never forget".
She is now raising Sina's 4-year old daughter whose mum was killed by the youth the family "treated as a young brother".
"My heart is broken," she said, telling Kelekolio that she hoped one day he would apologise to Sina's daughter.
Outside court, Kelekolio's father declined to comment: "Not right now."
Mr Rapley said it was too early to say whether he would appeal.
Detective Senior Sergeant John Rae said the sentencing was welcomed by the Solomona family, "who can move on now".
"It's not going to solve the issue but at least they can feel a lot better about the whole thing," he said outside court.
"These people who commit murder are the greatest thieves of all."
- APNZ