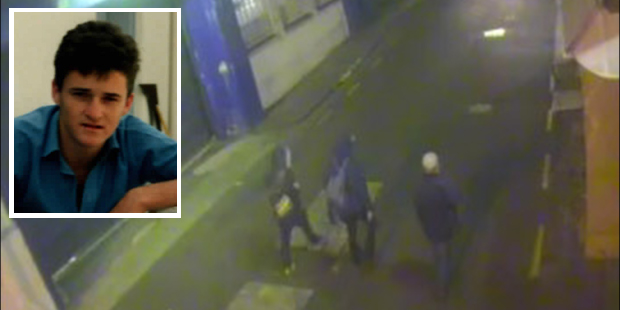 A teenager accused of beating a homeless man to death in an Auckland alley has been found guilty of murder.
A jury in the High Court at Auckland returned the verdict this afternoon after beginning deliberations yesterday.
Steven Churchis, who was 17 at the time of the attack, subjected Edwin Linder to a brutal attack in a central city alley exactly a year ago.
Mr Linder, 42, died in hospital three days after the assault.
He had lain unconscious in Mills Lane for around eight hours before he was found.
The High Court at Auckland heard from friends of Churchis who had a dispute with Mr Linder over where they were sleeping that night.
When Churchis - known to his friends as 'DJ' - and a young woman returned from a nearby fast food restaurant Churchis came upon them arguing with Mr Linder, the court was told.
As the victim tried to leave, Churchis kicked him in the chest, sending his head crashing onto the concrete underneath him, the witness said.
Churchis then "went overboard" and allegedly began punching him, which was when the witnesses walked away.
"He just started stomping on his face ... all I could see was him standing up and kicking."
The man told the court he later poured a bottle or urine over Mr Linder.
Another of Churchis' friends told the court that they didn't ring an ambulance because they didn't realise how seriously injured Mr Linder was.
A doctor who treated Mr Linder gave evidence that his prognosis was "very poor" when he was admitted to intensive care.
"We could not say he had any chance of making a good survival," Dr Craig Hourigan of the department of critical care told the trial.
Mr Linder suffered severe brain and facial injuries and, combined with a previous head injury he suffered in 2001, it was unlikely he would live, he said.
Rather than aggressively treat his injuries, Mr Linder's family asked doctors to administer pain medication until he passed away.
Churchis will face a mandatory penalty of life imprisonment with a minimum term of at least 10 years in jail when he is sentenced.
- APNZ