Watchdog rules Top Gear presenter's comment offensive, but BBC says it has already apologised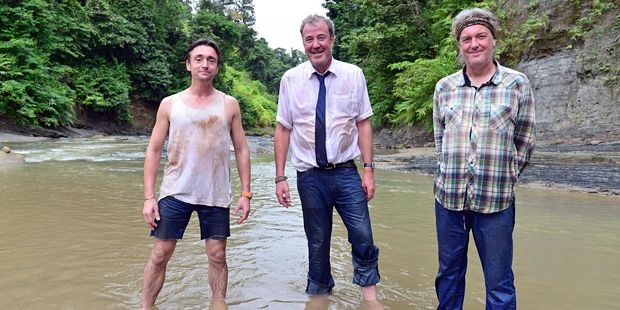 The BBC says it will stand by Jeremy Clarkson after he was reprimanded by British broadcasting regulator Ofcom for yet another racial comment - this time referring to an Asian man as a "slope" during a Top Gear Burma special.
The watchdog found the BBC2 show breached broadcasting rules and that the "pejorative racial term" had been scripted in advance and was regarded as "humorous" by the production team.
Clarkson was also in strife in May after he was heard to use the N-word when reciting the rhyme "Eeny, meeny miny mo" during a clip for Top Gear that was not broadcast. Clarkson issued a video statement saying he was "mortified" by the footage.
He has also outraged the Indian High Commission and the Mexican Ambassador with mocking comments about the cultures of those countries.
But the BBC said Ofcom's latest finding would not threaten his future with the organisation.
"We dealt with this matter some time ago, the programme apologised at the time and explained the context, and we are now focusing on delivering another series of one of Britain's best-loved shows," a statement said.
Clarkson used the word "slope" in a play on words about a makeshift bridge that the programme had constructed across the river Kwai in Thailand.
As an Asian man walked towards him, the presenter looked at the bridge and said: "That is a proud moment but there is a slope on it."
Ofcom received two complaints that the expression was racist and offensive. It said "the word 'slope' is an offensive and pejorative term for a person of East Asian descent, which originated during the Vietnam War".
But in their defence, Top Gear's programme makers claimed they thought the term amounted to "mere slang" and did not know the word could "cause offence particularly in some countries outside the UK".
The BBC also reminded Ofcom that the long-standing executive producer of Top Gear, Andy Wilman, had already issued a public statement apologising for any offence caused by the programme, which was broadcast in March.

In the gun
• A broadcasting regulator has decided Jeremy Clarkson's comment during the Top Gear Burma special was racist.
• Two complaints were received that it was racist and offensive.
• The regulator said it was scripted and the BBC failed to check if it could offend.
• Programme makers claimed they thought the term amounted to "mere slang".