Butterflies Trust points the finger at growing numbers of predators attacking caterpillars.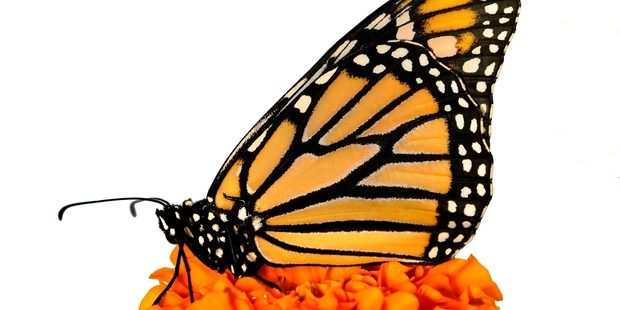 Sightings of the bright orange and black monarch butterfly are few and far between this winter and the finger is being pointed at growing numbers of wasps.
Amateur scientists are reporting fewer sightings of monarch butterflies that are tagged and released in March and April to spend winter in trees in parks and golf courses before returning to gardens to reproduce in spring.
Jacqui Knight, of the Moths and Butterflies Trust, says she has been to several of the winter sites around the country and found low numbers of monarch butterflies. She said part of the problem was the enormous build-up of social wasps over the past two warm winters.
"When wasps are looking for protein to feed their young they take monarch caterpillars. This has badly affected monarch numbers," she said.
Trust members were now raising monarchs under cover to keep them safe from wasps.
Steve Wratten, professor of ecology at Lincoln University and an insect expert, did not dispute the findings of committed and caring people but said they were based on "possibly, probably and apparently".
Unlike other countries, he said, New Zealand did not do proper population studies for insects such as monarch butterflies.
Professor Wratten said that May this year had been the warmest May in the world since 1750. This could boost the number of attacking insects, such as wasps, which did better than monarch butterflies.
According to Landcare Research, four species of social wasps were accidentally introduced to New Zealand and are now established and classed as pests.
Two of the four species are vespulid wasps (common and German). The other two are paper wasps (Asian and Australian).
Ms Knight said one overseas study of invertebrate numbers worldwide showed numbers had decreased by 45 per cent on average over a 35-year period.
"Such a decline is of concern because of the enormous benefits butterflies and other small creatures bring to our day-to-day lives, including pollination and pest control for crops, decomposition for nutrient cycling, water filtration and human health."
On the web
People can learn more about the trust and report sightings at www.mb.org.nz