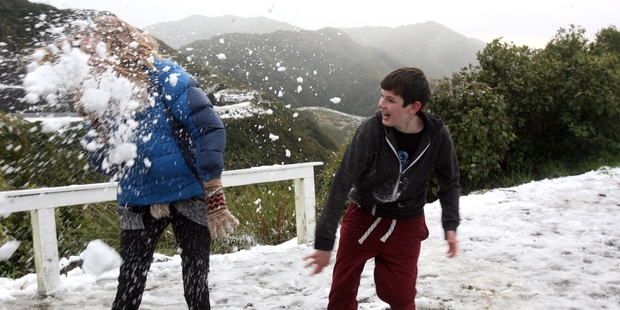 The cold weather biting the country is set to continue into the weekend, with a chilly wind hitting both islands.
It comes as one forecaster predicted this week could be the coldest of the year nationwide.
Another cold front is expected to sweep in tomorrow, following a brief respite for many places around the country today. It will bring southwesterly winds along the eastern coasts of both islands, MetService said.
"An area of high pressure over the Tasman Sea slowly starts to build over New Zealand heading into Saturday, but not before one last sneaky southerly brings some showers for the southern and eastern parts of the North Island and eastern coastal regions of the South Island," MetService meteorologist Elke Louw said.
Football fans travelling to Wellington on Saturday to catch English premiership sides West Ham and Newcastle take on Sydney FC and the Phoenix are warned to wrap up warm.
"It would be a good idea to take an extra jersey with you, as the southerlies are expected to freshen in the evening which could drag in a few showers and give an extra bite in the air."
Sunday would see a chilly, frosty start, with showers clearing to leave behind mainly fine conditions and light winds for most, Ms Louw said.
The area of high pressure would likely bring a slightly warmer end to the month as we move into next week, but could be windier, WeatherWatch said.
"Following a high on Sunday and Monday -- the first one to fully cover New Zealand this month -- the weather turns westerly, with sunnier, warmer weather in the east and cloudier, wetter, weather in the west," it said.
"Temperatures nationwide should creep up next week, and at this stage the first day of August may kick off windy and wet with the westerly flow continuing into the first week of August."
WeatherWatch said this week, from July 20 to 26, will likely be the coldest nationwide week of the year. However, it didn't rule out the possibility of a polar blast in August or September.
Meanwhile, it was still keeping a close eye on conditions in Northland, which was still "particularly vulnerable to rapid and significant flooding" from small amounts of rain.
The high pressure system moving in from the Tasman Sea could cause problems if it brings with it large amounts of rain.
"We'll continue to monitor, but at this stage we hope it won't cause any issues," WeatherWatch said.