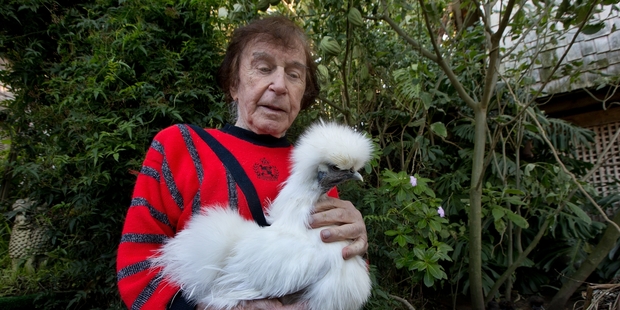 For 60 years Billy Farnell has bred champion show poultry at his Remuera home and has a room full of trophies to show for it.
"I have eight chooks here but I haven't a rooster now - the council said if I didn't get rid of it they would take me to court," said the professional pianist.
The hobby breeder spoke out after the Herald yesterday revealed a proposed Auckland Council bylaw which would limit the number of chickens residents could keep on their properties and require licences for roosters and other stock like goats and sheep.
"The neighbours liked the sound of the rooster crowing in the morning - it used to echo up Portland Rd and Victoria Ave," Mr Farnell said. "But a new neighbour moved in about six months ago and kept ringing up the council to complain."
The proposed animal management bylaw means Mr Farnell would need a licence to keep more than six hens because he lives in an urban area. "Six, 8 or 10 chooks ...
it doesn't make any difference. It doesn't cause any trouble. They just go around and peck and lay eggs."
Under the bylaw, a licence would be required for seven to 12 hens in an urban setting and also in the future, a planning rule change would require getting a resource consent for more than a dozen.
But some of the hundreds of Auckland residents who keep hens say six poultry birds is enough for a town dwelling.
Among those who favour new controls is Herald columnist Wendyl Nissen who kept up to 10 hens on her Grey Lynn quarter acre section.
"I think they are good rules," said Nissen, who wrote about keeping hens in her book A Home Companion.
"Six is enough - you get six eggs a day."
Proposed licensing would have inspectors check the suitability of a place for more than half a dozen chickens.
"I think it's fair enough, too - they need adequate housing and room for the good of the chickens."
Nissen said she had to get rid of her hens after four years, because of attacks by stray dogs. But she looked forward to owning some more when she moved full time to her Hokianga property.