Softer stance after volcanic cones are handed back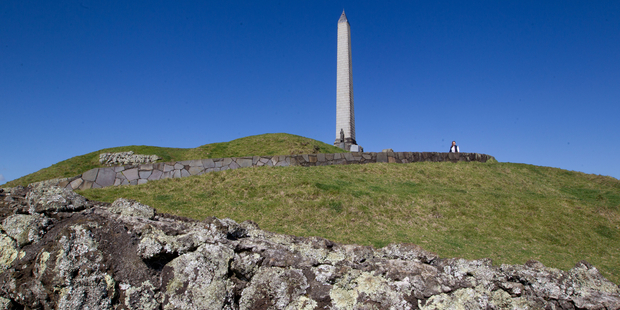 Auckland's One Tree Hill was dubbed None Tree Hill after the demise of its 125-year-old pine. But the landmark may finally get a replacement.
Ngati Whatua o Orakei say the settling of an old grievance means they're ready to talk about planting a new tree on Maungakiekie - One Tree Hill.
The Nga Mana Whenua o Tamaki Makaurau Collective Redress Bill gets its final reading at Parliament today and when passed will see ownership of 14 volcano sites around the Auckland region transferred to the Tamaki Collective, a group of 13 iwi and hapu.
The bill clears the way for the replanting on the top of Maungakiekie, whose summit has been bare since 2000 when its lone pine finally buckled six years after Maori activist Mike Smith took to it with a chainsaw.
Ngati Whatua o Orakei trust deputy chairman Ngarimu Blair said his people were ready to sit at the table with other iwi within the collective and the Auckland Council to talk about Maungakiekie's future.
"As Ngati Whatua o Orakei have always said we will have a discussion about replanting the tree once our grievance is settled about how we lost control of our most sacred site, Maungakiekie," he said.
"So today really settles that grievance with the return of it - albeit not as we first hoped just to us, but in a collective."
Mr Blair said details of what kind of tree would sit atop the mountain needed to be worked through but the Auckland Council had grown a number of locally sourced totara and pohutukawa that could be suitable. Mr Blair said a meeting between the Maunga authority for the volcanic cones and Auckland Council was scheduled to be held by September.
Plans to replant six trees at a dawn ceremony in June 2002 were stopped when then Ngati Whatua Maori Trust Board chairman Sir Hugh Kawharu notified the Auckland City Council that the iwi was unable to attend the ceremony.
Sir Hugh said at the time that Ngati Whatua did not want the planting to proceed while it had a claim on Maungakiekie and was in negotiations with the Office of Treaty Negotiations.
Auckland mayor Len Brown last year said his preference was to see a mature pohutukawa on top of the hill as most other trees would struggle to grow up there.
He said yesterday the Maungakiekie/One Tree Hill was his favourite volcano site and a symbol of the city's unity.
"There's something very special about the site. It's got the spire, raised by Sir John Logan Campbell.It was in honour of a brave native people, because he feared Maori wouldn't survive European occupation."
Maungakiekie MP Sam Lotu-Iiga said he wanted a new tree as soon as possible. "That is for the Maunga Authority to determine, but I think it should be a priority."
Planting seen fitting tribute to life of U2 roadie
Former music writer Colin Hogg said a new tree would be a fitting tribute to the Kiwi roadie who was the subject of U2's song One Tree Hill.
Greg Carroll was recruited on the Irish band's tour during its 1984 visit to New Zealand. He took lead singer Bono up One Tree Hill, and later worked for the band in Dublin. He died in 1986 in a motorcycle accident. Mr Hogg went to Mr Carroll's tangi in Kai-iwi
Marae, with Bono, drummer Larry Mullen and other band representatives, and later the band dedicated its song One Tree Hill, and the album The Joshua Tree, to Mr Carroll. "If the site has international significance, it is through that song, and through the memory of Greg Carroll," said Mr Hogg, who never met Mr Carroll. "I just remember being in this tiny marae north of Wanganui, and with Bono and Larry.
"It was quite a powerful gesture of respect. I'll never forget Bono sitting there singing Knockin' On Heaven's Door in ... the middle of nowhere."
At an Auckland concert in 1986, Bono talked about Mr Carroll and how moving it was to be at his funeral.
- Derek Cheng