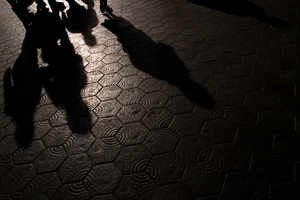 Dark, graffiti-covered, rubbish-strewn public Wellington walkways are discouraging walkers from using them, new research says.
A University of Otago, Wellington, study of 118 of the capital's street-connecting walkways found graffiti and litter were commonly visible in more than half.
Glass was also scattered in 17 per cent of walkways, said the study, which had been published online in the international Journal of Urban Health.
Of the walkways with guttering, most (89 per cent) were overflowing in at least one place with plant debris or living plants, the study said.
Lighting was often "insufficient" at walkway entrances, with only 20 per cent having lighting at both entrances. Only three per cent of walkways with steps had their edges painted to help with visibility at night.
However, the study also found most walkways with steps had handrails (84 per cent), and some had planted flower beds or tended shrubs on the path verge, seating, community art works, and non-slip surfaces applied to wooden steps.
Lead author of the study Associate Professor Nick Wilson from the university's department of public health, said good urban design, including street connectivity, was important to encourage walking, which in turn helped prevent chronic illness such as heart disease, cancer and diabetes.
"These conditions account for a large share of health loss for New Zealand, and are major costs for the tax-payer funded health system."
Wellington City Council "could do better" with walkway maintenance and monitoring of the state of walkways, including engaging the public to help identify improvements needed, he said.
"A public monitoring system that enables people to report issues using, for example, free mobile apps, a text or picture message, or a website to report problems, would help councils manage and respond to issues efficiently."
Some potential improvements to walkways would be fairly low cost, Professor Wilson said.
"Improved signage would be inexpensive, and greater use of motion-sensitive and highly-directional LED lighting would both improve lighting and reduce electricity and maintenance costs."
Central government could also play a greater role in funding research on the most cost-effective approaches to walkway improvements throughout New Zealand, he said.
A Wellington City Council spokesman said a lot of people who didn't use off-street walkways might get the impression that they were in a state of dangerous disrepair. This was far from the case, he said.
"Yes we agree that some of our walkways could be improved -- which is why we have an ongoing programme of improving lighting -- including the use of LED technologies -- repair and maintenance of paths and steps etc.
"When we get complaints about problems with pathways we generally respond -- and it would be safe to say we don't get many complaints.
"That being said, we also run a smartphone app service called 'FixIt' which enables people to report faults and problems by taking a photo with their phone and sending it to the Council."
Wellington had a far higher rate of people walking about the city than any other city in the country, he said. Some 26 per cent of the trips to and from the CBD were made on foot.
"In terms of things like signage etc, we generally don't feel it is a big issue, given that these pedestrian walkways are most often used by people who live nearby or who are familiar with the area. In other words a lot of walkways have good signage while with others there's not a huge demand for signage."
More than 90 per cent of respondents to annual surveys stated they were happy with pedestrian accessibility, he said.
In April a woman was attacked after walking up the stairs from The Terrace to the Boyd Wilson Field near Victoria University just before 2am, prompting police to warn against people walking home from work or a night out in town using dimly lit paths and parks.
Police said they were working with Victoria University to address the risks, including discussions on better lighting.
apnz gf
- APNZ