Cameras and lights linked to new computer system will make life safer and smoother for road users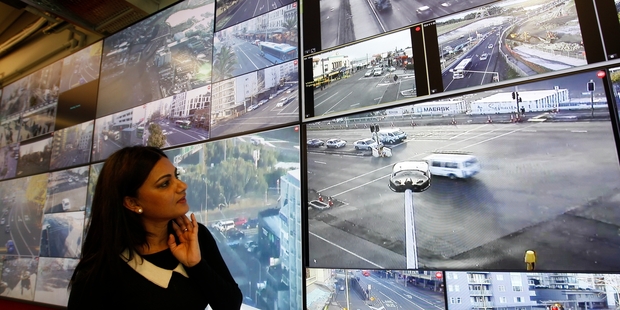 Relief could be at hand for motorists and cyclists suffering red-light rage on Auckland's clogged roads.
Road users are being promised less waiting time at traffic lights linked to CCTV cameras.
Hundreds of cameras already stationed at intersections will give Auckland Transport more accurate information about traffic flows and congestion than is now available from magnetic loops in road surfaces, and allow it to adjust light phases to shorten traffic queues.
The Automobile Association said the measures sounded "fantastic".
But making traffic lights work better is just one of a raft of efficiency and safety benefits expected from a new computer "analytics" system aimed at co-ordinating data pouring in from 1800 cameras already spread across the Super City's roads and railway stations.
Auckland Transport says its primary concern will be safety, but the system will allow some cameras to be used for multiple purposes. Those will include gathering traffic data for planning, emergency incident management, parking enforcement, combating vandalism and keeping busways and clearways free of obstruction.
The council body, which has inherited five separate camera systems from former councils, is finalising a contract to unify them on a single information platform which will automatically alert staff at a new traffic operations and incident management centre on Queens Wharf to congestion or safety problems needing rapid responses. That is likely to include alerts being flashed up on banks of monitors if train passengers get too close to the edges of platforms or even fall on to tracks, so centre staff can send warnings across public address systems or to rail operator Transdev.
Cameras will also be used to back up existing GPS tracking of any parking officers finding themselves under attack from angry drivers.
"This is stock standard in major cities around the world, so we are coming up to speed, putting systems in place to enable a major city to operate," business technology general manager Roger Jones said of the new system.
He expected it would cost no more than about $2 million to set up a basic platform over the next three months.
But he said the organisation was still working through protocols with the Privacy Commissioner to protect information gathered, although it would be available to the police for prosecution purposes, subject to warrants being obtained.
Project manager Russell Derecourt said information about individuals would be kept for a maximum of seven days, unless needed longer for evidential purposes.
The new system will also feed into a traffic operations centre run since 2010 in Takapuna by the Government's Transport Agency, which is sharing project costs and will use it to enhance its management of motorways and highways.