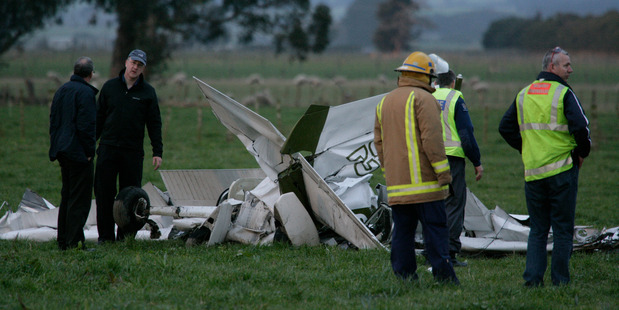 A woman who died in a mid-air collision had noticed flaws in the aviation industry and was trying to make changes, according to her father.
Flight instructor Jessica Neeson, 27, and student Patricia Smallman, 64, died on July 6, 2010, after their Cessna 152 collided with another aircraft near Feilding's Taonui Aerodrome.
The second plane, flown by learner pilot Monaj Kadam, landed safely. He gave evidence at an inquest in 2011 before returning to India. The latest inquest was completed in Palmerston North today.
Several witnesses provided statements to Coroner Tim Scott who also heard testimony from Captain Gary Parata. Captain Parata, an expert on mid-air collisions, gave his view of why the incident occurred.
"There's almost never one single cause that can be attributed ... it comes down to systematic issues."
A report by the Transport Accident Investigation Commission stated the two Cessnas likely collided at approximately 1400ft, as they both ascended.
Ms Neeson was about to begin teaching Mrs Smallman an overhead rejoining manoeuvre (which must be done at 1500ft) while Mr Kadam was beginning a solo flight.
Flight Training Manawatu flight instructor Apurva Bhatia was assigned to Mr Kadam that afternoon, and monitored his radio calls. She said Mr Kadam had been scheduled to fly at 3.30pm but went instead at 2.45pm.
After pre-flight checks, she returned to an office overlooking the runway and received radio calls during Mr Kadam's take-off and as he climbed past 700ft.
Moments later she heard a distress call.
"I heard 'Mayday Mayday engine failure', I then heard screaming and then nothing else," Ms Bhatia stated. "On hearing the call ... I recognised the voice as being Jessica."
FTM CEO Michael Bryant told the inquest changes had been made to the airfield, including reducing the lowest flying height from 1200 to 1100ft and giving planes 400ft of vertical separation. Radio calls were also now being recorded.
Outside the inquest, Ms Neeson's mum Lyn said she hoped Coroner Scott would reinforce the need to make these events rare. "Captain Parata said it -- these should be a one in 50 year occurrence."
One witness said they had seen a "near miss" four days prior at the same airfield but there was no evidence to support this.
Captain Parata said it was possible this had gone unreported, and failing to record such events was common.
"It's an endemic ... because people think they are going to get in trouble."
Mrs Smallman's husband didn't want to comment but said he felt "it was very sad" that publicity surrounding the event had not mentioned they had a son.
Coroner Scott reserved his decision.
For more articles from this region, go to Manawatu Guardian