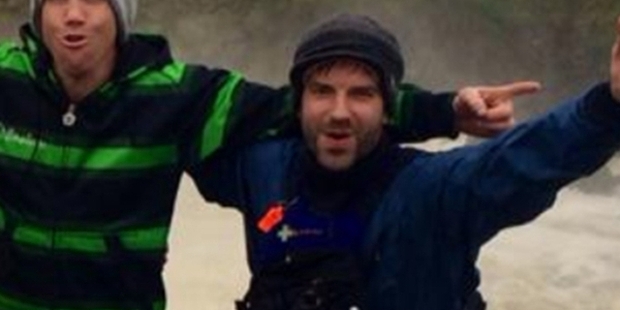 A kayaker who drowned in a New Zealand river at the weekend was pictured in front of the raging water just hours before he lost his life.
Ladislav Svarc, 29, was kayaking on the Wairua River near Whangarei on Saturday when he was caught at the base of falls near Puketitoi Rd.
The Czech had earlier posted a photo of himself with two friends wearing sprayskirts, wetsuit socks and wet weather gear cheering with their arms around each other in front of a turbulent waterfall overflowing with muddy water.
Sergeant Craig Burrows said the group tried to kayak over the waterfall about 1.30pm. Mr Svarc struggled at the bottom of the falls and was forced under the surface. His friends managed to pull him out but could not revive him.
Mr Burrows said the four kayakers were equipped with safety gear, including lifejackets.
Mr Burrows said the four attempted to go over the waterfall when Mr Svarc struggled at the bottom of the falls and got caught in the rapids.
"He got into trouble and was pulled under many times," Mr Burrows said.
"His friends managed to reach him, pull him up a cliff and perform CPR, which was unsuccessful."
He said the river was wild at the time with floodwaters from heavy rain swelling the watercourse.
Access to the waterfall is not easy, with kayakers having to go across private land to get there.
Mr Svarc had been living in New Zealand and Mr Burrows said his next of kin in the Czech Republic had been informed of his death. They had yet to make a decision whether to fly to New Zealand or await the return of his body.
Puketitoi Rd residents spoken to by the Northern Advocate yesterday said the waterfall would have been raging on Saturday after the large volume of water that has fallen on the catchment area in recent days.
Jim McGrath said the river drains Hikurangi Swamp and would have been "very, very full and very, very swift" on Saturday.
"It's got a huge amount of water going through there after the storms like we've had and those falls would have been wild. You'd have to be nuts to go over in weather like that," he said.
Chairman of the Northland Regional Council Bill Shepherd said plenty of people had kayaked over the falls that he was aware of, so it was not a rare event.
But the falls, that he has heard referred to as Old Jim's Falls after a man who once owned some of the land, can be dangerous after a storm.
"You have to be a bit careful, but a number of people have been over the falls, though I haven't seen anybody going over in conditions like it would have been [on Saturday]," Mr Shepherd said.
"It's a bit risky. There's been a huge amount of water over them and there are whirlpools at the bottom that are horrendous at the best of times."