Family say hurt sports star staying positive despite scare last week in bid to move him.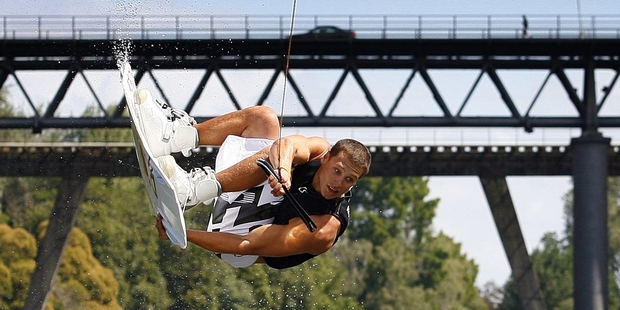 New Zealand wakeboarder Brad Smeele has suffered a setback since his serious accident almost two weeks ago.
But his spirits are up and he continues to fight, his family say.
The 27-year-old former junior world champion has been in hospital in Orlando, Florida, since landing on his neck while training.
The accident badly damaged his spinal cord, shattering his C4 vertebra and leaving him a quadriplegic.
His sister Monique, based in Auckland, said her younger brother had had a slight setback last week after doctors tried to move him out of the intensive care unit.
"They decided to move him out of ICU and into the trauma [unit] ... but he then got a bit of a temperature and he had a seizure."
Ms Smeele said her brother "freaked out a little bit" when his temperature shot up, but had since become stable.
"He's still got pneumonia, so they're constantly trying to get fluid out of his lungs because his lungs collapsed. But he's not as bad as he was at the start of the week," she said.
"He's taking each day as it comes and he's getting stronger.
"He's positive and he's a bit brighter."
Mr Smeele grew up in Auckland and went to St Kentigern College and Auckland Grammar School.
Even as a young boy, he loved the water and had a passion for sport.
A love for wakeboarding quickly developed and over the years he has been the NZ champion and picked up the junior world champion title twice.
The family are trying to come up with funds to help with their son and brother's medical recovery. A medevac flight alone would cost up to $200,000, if they choose to bring him to New Zealand for treatment.
For the next six months' care, they hope to raise between $400,000 and $500,000. A Givealittle page has already brought in just over $100,000 and that was something the family were hugely grateful for, Ms Smeele said.
"It's just so awesome to see so many people just really wanting to help Brad. It's amazing."
Ms Smeele said her mother, Linda, remained by her brother's side in the US and their stepfather, Gordon, had just returned from visiting them.
A medical condition was preventing their father, Erik, from flying, but the family - including another brother based in London - were actively working to fundraise.
"It's really hard ... but we've just all banded together and just [said]: 'We have to do what we have to do to help Brad get through this'."
How you can help
Givealittle website, search: Brad Smeele's Recovery.
www.bradsmeelefoundation.com.
• More substantial donations can be made by contacting the family on bradsmeelefoundation@gmail.com.
A number of products are also up for auction. Visit the Brad Smeele's Recovery Facebook page for details.