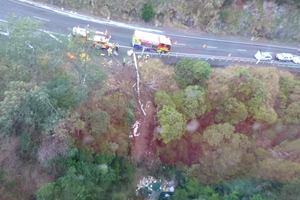 A truck driver is thought to have been on the phone to his nephew the moment his vehicle plunged down a cliff near Kaikoura, his brother says.
Searchers have recovered the body of Stuart James Barnes, 59, whose fully-laden 50-tonne truck crashed some 25m off a bank on the Hundalee Hill on State Highway 1 early on Wednesday morning.
His older brother Mervyn Barnes, 61, said his son, Nigel, also a truck driver, was following "Stuey" just prior to the accident.
Nigel reported that Stuart had been driving somewhat erratically and at one point nearly came to a stop, possibly because he had missed a gear.
"Nigel said that it wasn't Stuey driving the truck," Mervyn said of the usually ultra-careful driver.
Soon afterwards Stuart pulled over and indicated for his nephew to go around him and continue on.
Nigel called him on his hands-free mobile phone to make sure everything was alright and the two men were talking when the phone suddenly went dead.
"He thought 'okay, I've lost service, I'll contact him later'. But he carried on down and past a fire engine and cops racing up."
It was thought Stuart had been speaking to his nephew at the moment of the crash.
Prior to departing from Picton, he had complained of having sore legs.
"We know he has medical problems - he's a diabetic type 2 and he had cellulitis in his legs," Mervyn said.
"My theory is that perhaps he hit the left hand side of the bank to try and slow the truck down or stop it because he could feel something coming on medically, and he's bounced off that and gone over.
"The only thing I hope is that he was dead before he went over."
Stuart had been driving trucks for about 40 years and had a blemish-free safety record.
"He's never had a speeding ticket, he's never had a fine, he's never lost a load, he's never been caught for insecure loading," Mervyn said.
"He was a very professional man. He's driven that road more times than you've sat down and had hot meals."
He lived in Auckland and had a son and a stepdaughter.
"He was a no-nonsense guy -- if you were a p**** he'd tell you straight to your face, no pissing around," Mervyn said.
"He was a genuine guy that would help anyone. There wasn't a vicious bone in his body."