Passengers on board when worried motorist called police.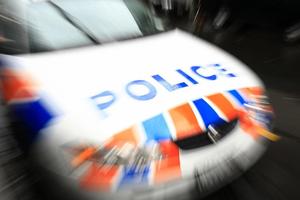 A bus driver carrying passengers in rush hour traffic was arrested for drink-driving after an alarmed motorist called police.
The man now faces a court hearing - and a meeting with his "horrified" boss.
Police confirmed they intercepted a Ritchies commuter bus carrying 10 people during evening rush hour in Central Auckland, after a motorist raised concerns.
Auckland road policing manager, Inspector Regan James, said the Takapuna-bound bus was stopped on Albert St on July 10.
A breath alcohol test showed the 39-year-old bus driver had a breath alcohol level of 687 micrograms per litre of breath, James said.
Ritchies' Transport managing director Andrew Ritchie said the driver was stood down and had not been seen since.
"He was meant to come in for a meeting, but he didn't show up. We've been trying to find him."
The transport boss said he was "so p****d off" but also thankful no one was hurt. "I'm so grateful to the person or the passenger who called police."
He did not know who the passengers were, as they had caught other buses by the time a replacement driver arrived, but apologised to those involved.
"I'm horrified with the whole incident. It's an abuse of trust. Not only of mine, but also his workmates. Imagine how they feel? And what about the passengers?"
The driver, who had worked with Ritchies for several years, had been going through a "difficult emotional situation", Ritchie said.
There was no excuse for drink driving and Ritchies had a zero alcohol limit for its drivers, he said.
Drivers were randomly breath-tested at the depot, and encouraged to not drink for at least 12 hours before getting behind the wheel.
He believed a driver would not be able to leave the depot while under the influence without being noticed.
No drivers had ever tested positive to a random breath-test at the depot, but he knew the July 10 incident would have a negative effect on his business, Ritchie said.
The man was charged with being a transport service driver with a breath alcohol level of more than the legal limit of 400mcg and his licence was suspended for 28 days. He will appear in the Auckland District Court next month.
Auckland Transport chief operations officer Greg Edmonds said city bus operators had a drug and alcohol policy as part of their contracts with Auckland Transport.
He was satisfied Ritchies had an appropriate policy.
"While extremely serious this is an isolated incident."
North Shore ward councillor George Wood, a former police officer who regularly travels by bus, described the incident as "scary".
He often travelled on Ritchies buses, and had never had any problems.
"I think it's an aberration as far as Ritchies is concerned [but] it's probably a wake-up call to remind people in the transport industry that drivers must not be taking on any alcohol if they're going to be driving."