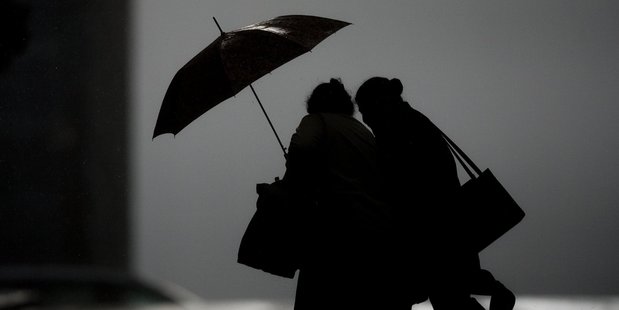 Clear skies are about to surrender to a soggy weekend - with rain starting to fall tonight in Northland before spreading tomorrow to Auckland and the Coromandel.
Aucklanders wanting to keep their spirits up for just a bit longer could consider fleeing tomorrow to the central North Island ski slopes, to take advantage of a buildup of snow from the fine, cold conditions of recent days. But MetService duty forecaster Hannah Moes says showers are likely to catch up to them later in the day, before rain sets in on Sunday, as it is also predicted to do in Tauranga and the Western Bay of Plenty.
Ms Moes said last night that although accumulated rainfall over Northland is likely to be less than what usually merits special warnings, forecasters recognise any extra water falling on pastures after last weekend's flooding could cause problems.
Heavy rain is expected to descend on Auckland and the Coromandel tomorrow, and those regions are likely to stay wet until Sunday night.
Temperatures in the north should be slightly milder than over the past few days, however, with a low of 8 degrees and a high of 13 degrees expected in Auckland tomorrow.
MetService meteorologist Liz Wash said earlier yesterday that a severe weather watch was in place for the ranges near Gisborne and Hawkes Bay north of Wairoa.
"There's snow to 800m, which is quite low for the North Island but it's unlikely to affect any roads, basically because there's none through there."
The worst of the weather for those areas would strike at the weekend, when the country would be sandwiched between two areas of low pressure.