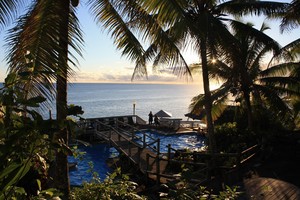 Charges may still be laid against a member of the New Zealand Defence Force accused of damaging a Niue hotel if police are unsatisfied with the military's disciplinary process, the Niue police chief says.
NZDF apologised to staff at the Matavai Resort following alleged damage to rooms and disruption of guests by personnel staying at the resort on July 2.
No charges were laid by local police at the time because the group was scheduled to leave the country that day and because NZDF assured it would conduct a thorough internal investigation, Niue chief of police Tony Edwards said.
A police investigation had been carried out, with the man allegedly responsible spoken to, but Mr Edwards had agreed with NZDF to "wait for the outcome of their investigation" and disciplinary decision before making a final decision on charges, he said.
"Certainly we do know that the military will deal with this seriously," he said.
The man is accused of spraying a fire extinguisher around rooms in the hotel, he said.
There was a possibility another person may also have been involved, but that was "yet to be determined".
NZDF had made assurances to the hotel that it would pay for the cost of the repairs, Mr Edwards said, however he did not know how much that would cost taxpayers, only that "considerable damage" had been caused.
"All I'm looking for is a satisfaction with whatever the outcome is, that both parties are happy with what's going to happen."
He was "quite happy" at this stage with the investigation process, saying it was "pretty much on track".
"It's something that's happened, it's not a good thing that it happened, but I continue to support the New Zealand Defence Force with their investigation, as they have done with us. So we wait for the outcome of that."
NZDF today confirmed it was investigating complaints that a member or members of the group may have let off fire extinguishers while they were staying at the resort.
It was "taking this matter very seriously, and the incident is now the subject of an investigation by military police", it said in a statement.
"Meanwhile, the NZDF has apologised to the hotel and guests and is seeing what assistance it can offer in making repairs at the hotel.
"Until the military police investigation is finished, it would not be appropriate to make any further comment, so as to avoid prejudicing any legal processes that may follow."
It said a small group had been staying at the resort on the week of June 30, preparing for a "significant exercise later in the year".
Matavai Resort manager Sarah King told APNZ the matter had been referred to police.
"We won't be making any comment as the matter is with the Niue police."
- APNZ