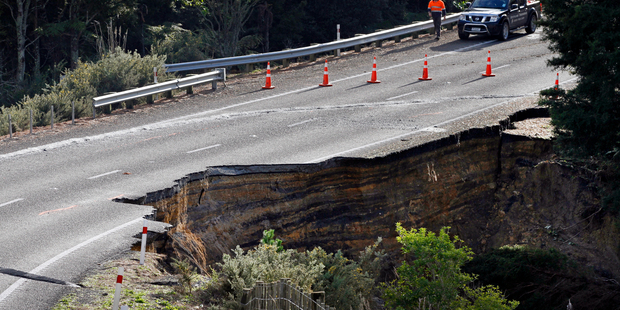 Roading teams are working around the clock to fix a washout which has forced the closure of State Highway 1 in Northland.
The major slip south of Kawakawa resulted in almost half of the road falling away on Saturday.
New Zealand Transport Agency journey manager for Northland Jacqui Hori-Hoult said engineers were looking to build an alternative route around the damaged area.
"At this stage our guys are going to be working 24/7 to ensure that's open as soon as possible."
The highway itself would be closed for weeks, she said.
Another diversion was available via SH12, which was open to all traffic.
Photos: Northland hit by winter storm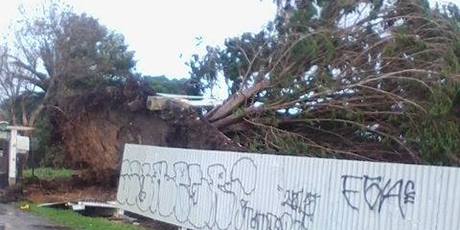 Meanwhile, storm-battered Northland will receive at least $100,000 from the government to help repair damage caused by high winds and heavy rain.
Civil Defence Minister Nikki Kaye said the government was considering a range of options to support those affected by the storms.
"I am pleased to confirm that the Government will be contributing $100,000 in the short term, with further assistance considered if needed."
Other measures being considered included counselling and support services, she said.
Civil Defence crews were knocking on residents' doors today in the Far North to assess damage to properties -- with so far a handful of Moerewa homes suffering major flood damage.
Northland Civil Defence spokesman Graeme MacDonald said officials were visiting residents in one of the worst hit areas Moerewa.
"There's seven or eight houses that have been inundated [with flood waters]".
But the region had fared remarkably well after the storm, Mr MacDonald said.
"When you consider that Northland had in some areas over half a metre of rain in those side bays, we're pretty lucky I think."
Mr MacDonald said while most in the region now had power restored, electricity companies Top Energy and Northpower were asking those who did not to contact them to ensure the companies are aware of their problems.
Top Energy said today it still had about 200 customers without power, roughly half of them in 14 main areas.
There were still water restrictions in place after river silt threatened the local water supply but public water supplies in Paihia, Haruru Falls and Opua areas, which had been critically low, had recovered slightly overnight, the Far North District Council said.
Meanwhile, MetService has forecast a short cold snap to sweep the country this week, bringing cooler but much more settled weather.
"We had that real mild northwesterly which brought all that wet weather but also some mild temperatures [last week], so we're going to find it cooler as we go through this week," said MetService meteorologist John Law.
Video: Weather: Storm hits Northland

Tomorrow's forecast for the main centres:
* Whangarei: Fine with southerly winds. High 15C, low 6C.
* Auckland: Fine with southerly winds. High 14C, low 2C.
* Hamilton: Fine with southerly winds. High 14C, low -1C.
* Tauranga: Fine with southerly winds. High 16C, low 4C.
* Wellington: Cloudy periods, a few showers, cold southerlies. High 10C, low 6C.
* Christchurch: Mainly fine with morning frosts and light winds. High 10C, low 3C.
* Dunedin: Fine and frosty at first. Cloudy periods and cold southwesterlies developing. High 9C, low 1C.
- APNZ