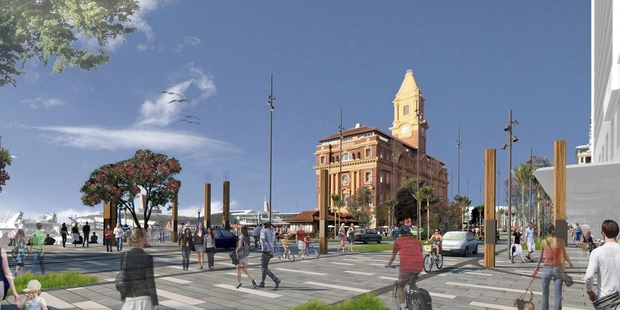 A plan to change Quay St from a car-dominated road into a waterfront boulevard is back on the table with Auckland Council seeking expressions of interest from design consultants.
The idea of increasing space for pedestrians, cyclists and possibly light rail along Quay St has been discussed for about 30 years and was included in a 2012 central city masterplan.
Now the council is at the "very early stage" of obtaining design advice that will be considered by councillors and the public before any decisions are made.
Deputy Mayor Penny Hulse, who as chairwoman of the Auckland development committee will oversee the plans, said the best designers were needed to create a great waterfront and city centre, including Quay St.
Designers will be guided by a council "design framework" with conceptual ideas for the ferry basin, Admiralty Steps and promenade around the Ferry Building.
Changes for Quay St are being considered in tandem with the redevelopment of the downtown shopping centre, possible privatisation of Queen Elizabeth Square and the future of Queens Wharf.
The prospect of limiting part of Quay St is strongly opposed by residents of the eastern suburbs who use Tamaki Drive and Quay St to commute to work.