Torrential rain caused flooding and closed roads in Auckland and Waiheke this afternoon, with a number of people having to be rescued from rising floodwaters.
The Fire Service responded to three people trapped in floodwaters on Clevedon-Kawakawa Bay Road, but all have been reported safe and well, Auckland Civil Defence said.
Auckland Council stormwater were using sandbags to assist with flooded properties in Kawakawa Bay, and there was flooding on Waiheke Island.
Have you been affected? Send your story, photos or videos here.
Flooding had closed Townson Road at the intersection of Clevedon-Kawakawa Bay Road, and low lying rural land around the Wairoa River could also be submerged when the river peaked later this afternoon.
Meanwhile, intense rain over Auckland was moving south east into the Firth of Thames, WeatherWatch head analyst Philip Duncan said.
Downpours over the Hunua Ranges and the Miranda coastline could cause rapidly rising rivers, flash flooding and slips.
Drivers were urged to keep their headlights on at all times and be wary of poor visibility, he said.
There was a risk of isolated bouts of hail and gusty winds, but most of Auckland would remain cloudy but dry.
MetService forecaster Allister Gorman said thunderstorm watches were in place for Auckland and the Bay of Plenty this afternoon.
Parts of south east Auckland and Waiheke were at risk of thunder and 30mm of rain an hour until 6pm.
Thunderstorms and 25mm to 35mm of rain an hour were expected to hit the wider Bay of Plenty between 6pm through to 3am on Sunday.
Further north, Northland police advised motorists travelling south through Morewa that water levels at the bottom of Turntable Hill, just north of the township, were over half a metre deep and only trucks and large 4X4s were able to get through.
There was good signage south of the flooding but none to the north, police said.
"Contractors are present warning traffic. Motorists in cars are advised to delay their travel.
"There is also still a general advisory in place for Northland for all non-essential travel to be delayed and that those who do need to travel take particular care due to wide-spread surface flooding."
Northland residents have been evacuated from their homes due to flooding while more than 2000 homes across the upper North Island remain without power.


Several Northland residents have been caught in vehicles by flood water and rescued by emergency services, police said.

Other residents were in the process of being rescued from flooded dwellings.
WeatherWatch forecasters said a heavy rain band arrived exactly as predicted for Auckland - around dawn.
Heaviest falls were over the Gulf, including Waiheke Island - and the eastern coastline of the city including the CBD.
There were sub-tropical elements to the rain band, which could lead to torrential downpours and localised surface and flash flooding, forecasters warned.
Motorists were advised to exercise caution and be aware of limited visibility.
Winds were expected to ease this morning after gusts reached up to 80km/h in exposed parts of the city, WeatherWatch forecasters said.
The active front was expected to move into Coromandel Peninsula, western Bay of Plenty and Waikato later this morning.
MetService forecasters said rain had finally eased in Northland, but an intense trough continued to move eastwards, bringing heavy falls to many areas.
A severe weather warning was in place for further heavy rain for the west and north of the South Island and for the Bay of Plenty region.
In the South Island, further heavy rain was expected in the Nelson ranges - particularly the western ranges, and also in Westland and Fiordland.
Slips and surface flooding were likely, and rivers and streams could rapidly rise, MetService warned.
Northeasterly gales had eased over Northland and Auckland, and severe gale warnings had been lifted.
Northland Civil Defence spokesman Graeme MacDonald said multiple agencies were mobilising to assess welfare needs and infrastructure damage as wild weather delivered its final anticipated blow overnight, causing widespread flooding in Northland.
The weather unfolded predicted, he said, dumping up to 128mm in the upper Waitangi catchment between 3pm yesterday and 6am today.
Rainfall intensities of up to 36mm an hour were recorded in the upper hills at Towai.
The weather had now finally moved away from Northland and respite for the region was expected later today and tomorrow, although storm-filled rivers were expected to continue to remain in flood this weekend before water could finally drain away.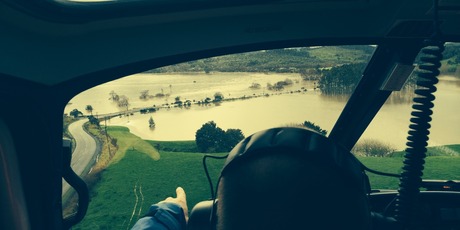 Significant flooding had affected Moerewa, Kawakawa and Kaeo, resulting in multiple flooding-related road closures, including parts of the State Highway network, Mr MacDonald said.
Whangarei area lines company Northpower said new feeder faults had affected areas near Dargaville and Hukerenui. An estimated 570 customers were now without power.
Motorists were advised to stay off the roads unless absolutely necessary today due to flooding and other issues, Mr MacDonald said.
Far North lines company Top Energy spokesman Peter Heath said 1500 houses were still without power.
"Going into last night there were only 1000 but bad weather last night caused a further 500 to lose power."
Spokeswoman for Auckland lines company Vector, Sandy Hodge, said the atrocious weather caused two outages overnight.
The outages affected 284 customers in Oratia and 1740 in Henderson Valley.
Power had been restored to all but 190 customers and crews expected the final customers back on by mid morning, she said.
Wind and rain was expected to continue throughout the day, potentially bringing further outages to the network as debris was blown around and branches snapped onto power lines, Ms Hodge said.
Vector had begun modifying the hot water pilot network after the storm of June 10 so potential storm impacts on customers would be lessened, she said.
The heavy rain has also washed away a 10 metre-long section of State Highway 1 just south of Kawakawa in Northland, closing the road in both directions.
NZ Transport Agency spokeswoman Jacqui Hori-Hoult said the washout was still moving.
"It is too risky for traffic. We are doing our best to find an alternative route, but the extensive flooding on state highways and local roads in Northland means it is difficult finding a detour that is safe for people."
"We would advise people not to travel unless it is absolutely necessary, and if they do have to be on the roads to take extreme care.
"This storm has led to a lot of flooding and damage across our region."
Care was also need on SH1 through the Dome Valley between Warkworth and Wellsford north of Auckland because of storm damage to the highway, Ms Hori-Hoult said.
Motorists were advised to drive to the conditions, use their headlights, lower their speed and increase their following distances so they had plenty of time to brake safely, she said.
"We are doing everything possible to get highways re-open, but we will only do so when we are sure roads are safe for people to use.
"Many of the closures are in isolated areas and communications are difficult because of the storm. People need to be alert to the conditions, which can change rapidly."
Affected roads:
* SH1, Kawakawa to Ohaewai: highway closed by floods; no suitable detour available
* SH1, north of Moerewa: flooding; caution needed
* SH10, Puketotara Road to Waipapa Road: flooding; highway narrowed to 1 lane
* SH10, near Kaeo: highway closed by floods; no suitable detour available
* SH11, Kawakawa to Paihia: highway closed by floods at Lemons Hill
* SH12, near Kaikohe: highway closed by floods at Taheke; no suitable detour available
* SH12, north of Dargaville: highway closed by floods at Rotu Culvert; no suitable detour available
- APNZ