The search for a woman missing in Waitangi River floodwaters since early this morning has been suspended.
Sergeant Shane Turner, of Whangarei, said the search will resume tomorrow morning. The woman was swept away about 6am after trying to retrieve her car at Haruru, 5km west of Paihia.
Do you know more? Send your story, photos or videos here.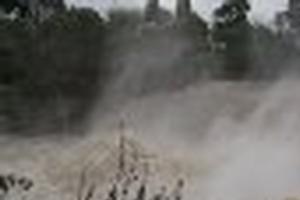 Far North emergency services were scrambled to search for the woman after she got caught in Waitangi River flood waters about 6am this morning, police said.
"The search is being made by land, river, sea and air. Several other people were caught in vehicles by flood water and have been rescued by emergency services. Other residents are in the process of being rescued from flooded dwellings."
A local welfare centre was set up for affected residents at the Bledisloe Hall in Haruru, police said.
Paihia resident Karee Owen wrote on her Facebook page: "There was a girl that tried to go to her car and people jumped in to save her. We think there are four of them missing at the moment."
"Found everybody except for one girl," she later wrote.
In a video posted to her Facebook page, Ms Owen said they were surrounded by water and trying desperately to get to higher ground.
In the video, Ms Owen walks around a balcony on the saturated property, commenting on the devastation surrounding her.
"As daylight comes, you can see that we're completely surrounded by water. Everyone's just sheltering up here on the structure as best as they can.
"There's a guy there, he's still waiting to be rescued, we've seen them rescue someone from the paddock — we're hoping it's Damian or the girl ... Spooney's still on top of the shed," she said.
"Look how fast the water's moving," Ms Owen later commented.
An Auckland Westpac Rescue Helicopter spokesman said their crew were called to rescue a number of people who had been at a party in Pahia early this morning before getting swept into the river.
A crewman who attended the rescue said they were stood down around midday after rescuing a man and a dog off a roof.
"He had managed to escape flood waters and get up onto the roof with his dog and had been there for some hours.
"We're under the understanding that there's still one missing."
"We were stood down by incident control. They had additional search aircraft in the area."
There was an "awful lot of water" which had submerged cars and forced the closure of roads, the crewman said.
A police northern communications centre spokesman said a number of people had been rescued, however they were still searching for the missing woman.
Northern Fire Communications shift manager Paul Radden said they were assisting people at a property which had been flooded due to a burst river bank.
"I believe we've rescued one and there's one more to rescue."
They had now left the scene, however a Northland police search and rescue crew were still looking for the missing woman, Mr Radden said.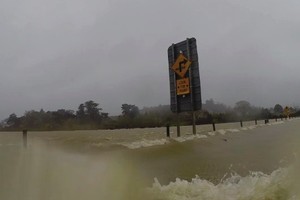 Coastguard Northern Region spokeswoman Georgie Smith said they received a call from Northland Fire Service around 6.30am to assist in finding a woman who had been swept from a tree near the falls.
The Coastguard Bay Rescue vessel searched the mouth of the Waitangi River for the woman, however conditions were treacherous.
The current was "pumping" at about 20 knots and their rescue vessel was unable to get under a bridge further up the river due to a high tide, large amounts of debris and flood waters, she said.
They too were later stood down.
The missing woman had come from a nearby house where the occupants had been partying most of the night, police said.
Northland police deployment manager Inspector Greg Dunn said it was believed the woman was swept away while trying to get back to the house from her partially submerged vehicle.
She was believed to be a visitor to the area from the Wellington region.
The area was extensively flooded and there were strong currents across paddocks leading into the Waitangi River, Mr Dunn said.
When police and the fire service arrived at the scene they found another three people either stuck in trees or on top of car and shed roofs.
"They began rescuing these people using helicopters, jet skis, IRBs and ropes and managed to rescue two people who had spent a long time in the water. "The Westpac Rescue Helicopter and Skyworks Helicopter and Police Search and Rescue (SAR) staff attended the scene and also lifted one person from a shed roof."
The helicopters and SAR staff continued an air search of the Waitangi River in treacherous conditions in an effort to locate the missing woman, Mr Dunn said.
Police were continuing land and boat searches for the missing woman and would continue tomorrow if necessary, he said. Victim Support and police were liaising with her next of kin.
The flood waters are now receding, Mr Dunn said.
Meanwhile, a group of people have escaped their vehicle without injury after driving into a river earlier today.
Northern Fire Communications shift manager Paul Radden said the car drove off State Highway 25 near Whangamata around 10.45am.
All occupants of the vehicle escaped uninjured before emergency services arrived, he said.
- APNZ