Dazed community looks to future without talented player, starting with a match on his beloved ground
Gumboots are checked at the door of the Otamatea Hawks Rugby Club in Kaiwaka.
Inside it's standing room only. Eight teams of intermediate-aged schoolboys, along with coaches, parents and helpers are packed into the classic country clubhouse, gathered for the opening ceremony of the Taniwha Cup. A guitar strikes up, leading the gathering in a rendition of Tutira Mai Nga Iwi.
Outside, the first, cruel fingers of a major storm sweep the rugby fields. Northland is about to be battered: 150km/h winds will rip trees out of the ground, flatten signposts and peel roofs from houses.
The storm, though, won't stop the Taniwha Cup. Rugby goes on.
Roughly 30km away, whanau and friends of Jordan Kemp are gathering at the Otamatea Marae. The 17-year-old Hawks hooker's body arrived shortly before midnight, two days after he was fatally injured in a match in Whangarei.
Exactly what happened to Jordan Kemp remains unclear. His teammates reported seeing him catch a knee to the side of the head attempting a tackle late in the match. Paul Crawford, the captain of opposing team Old Boys Marist, believes Jordan was injured at a ruck.
"I don't think in all honesty that anyone knows 100 per cent [what happened]," says the 35-year-old flanker. "Basically, he just came in to clean out and hit a ruck. Whatever it was that he connected with, whether it was someone's shoulder or knee, he knocked himself out then. He was able to recover enough to stand up and regain his feet and stagger towards the next ruck. He was actually leaning on the shoulder of one of our props halfway to the next ruck — [who] looked up at his face and said 'are you all right mate'? [Jordan's] eyes just rolled back and over he went."
Jordan received immediate medical attention but there was no saving him from the bleeding inside his skull.
"From what the medical people are saying, whether it was 10 seconds or 15 minutes would have made no difference," said a rugby official who asked not to be named as his information had not been verified.
But was the heavy head knock Jordan suffered earlier in the season a factor in his death? The injury he received in the second match of the season resulted in Jordan becoming the first player to receive a "blue card" — a new measure introduced by the Northland Rugby Union (NRU) that requires all players with suspected concussions to serve a mandatory three-week stand down, and prevents them from returning to the field without a doctor's clearance.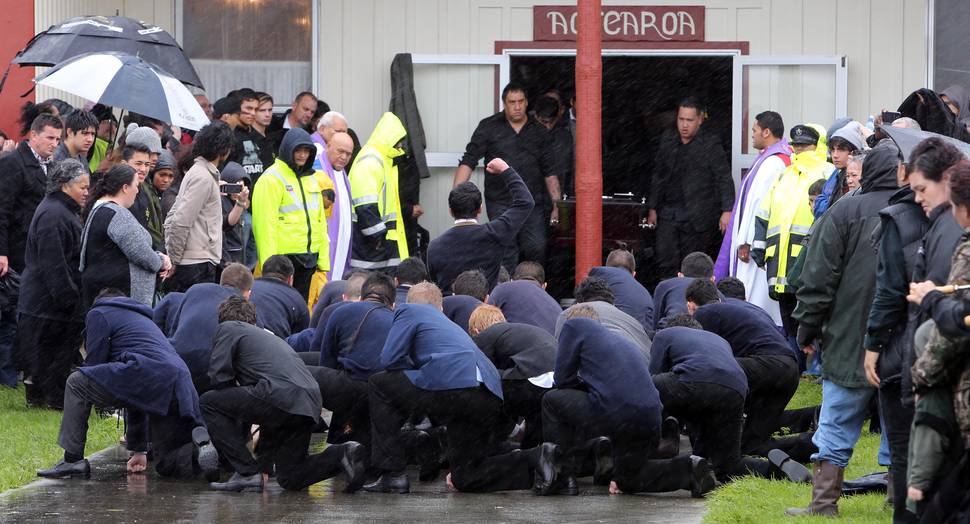 So far this season, 15 blue cards have been issued, including one to a player who was injured in a car crash and another who fell off a horse.
Jordan suffered his first head knock of the season on March 8. He sat out for five weeks, and had been back playing for over two months before suffering his fatal injury.
After standing him down and helping to oversee Jordan's carefully managed return to the field, there was little more, if anything, the NRU could have done to protect him, says Parkinson.
Jordan's death came just over 11 months after Takapuna club player Willie Halaifonua received a fatal head injury. Like Jordan, the 27-year-old father's injury was sustained within the rules of the game rather than as a result of foul play.
Otamatea Hawks president Kevin Robinson was just getting to really know Jordan, who had returned to the club after three years at Auckland Grammar on a rugby scholarship. He'd seen enough, though, to know Jordan would play a huge part in the club's future.
"He was the one that we were looking for," says Robinson. "We were grooming him to come through and lead the Hawks. He was dedicated."
Last Saturday was a big day for the Hawks. The premier side needed a win to keep their finals hopes alive. Jordan's reserves side was looking to finish on a high after a tough season that had yielded just two wins. The Kemp family travelled up to Whangarei in numbers. Jordan's triplet sisters, Chrishla and Michaela, and his grandfather Russell were at his final match. His uncle Justin, who spends every second month working in Perth but turns out for the Hawks whenever he is home, was playing alongside him.
"All their mokos were running around," said Robinson. "Kempy [grandfather Russell] was sitting a bit further over from us with his granddaughters. I never saw anything happen — just [Jordan] falling on the ground. And that was the last time he got off the ground."
Jordan's uncle Kim Phillips was also sitting with Robinson.
"[Jordan] went down and stayed there for too long and it concerned me," says Phillips. "I became worried but you couldn't do anything because there were medical people around who attended to him."
As Phillips sits under the waharoa, Russell Kemp and Jordan's grandmother Barbara make their way away across the marae grounds. A former North Auckland representative player and coach, Kemp has huge mana around these parts. He's a big man, but today his gait is stooped, broken, utterly desolate. Russell Kemp had "pretty much taken Jordan under his wing" on his return home from Auckland and had been a huge influence on his life and his rugby, says Phillips.
"A brave young fella," was how Kemp described his grandson. "If I ever went to war, I'd like Jordan beside me because I know he'd die for me."
With Jordan's mother, Tania, living in Australia, he was raised by father Aaron and step-mother Fiona, a counsellor at Otamatea High School.
Jordan had just started a job at a bottled water business at Kaiwaka and bought a car. Adulthood beckoned.
"It's just a waste," says Phillips. "Not like that. Not like that."


Jordan had just started a new job and was on the cusp of adulthood.
Ngati Hine on his mother's side and Ngati Whatua on his father's, Jordan now lies at Kakaraea Cemetery near the ancestral marae of the Te Uri O Hau hapu.
Nestled on the banks of the Kaipara at the end of a gravel road that winds through rolling farm land to the west of Maungaturoto, the marae occupies a beautiful spot. That beauty is obscured on the day of Jordan's burial. The wind has dropped but the rain has picked up, sheeting over the hundreds of mourners who can't fit into the packed meeting house and outbuildings. Tears flow freely when Jordan's coffin emerges for the short walk to its resting place, haka from Jordan's school and club mates accompany him on his final journey.
Back at the Otamatea Rugby Club, a sign advises that the day's Taniwha Cup matches have been shifted to Wellsford. The storm that has raged for days hasn't made a dent on rugby.
At Wellsford's Centennial Park, a president's selection made up of players who didn't initially make the cut for their sub union has the upper hand over Northern Wairoa. Using the gale, mud and an astute kicking game, Presidents have Wairoa pinned down. Wairoa give up kicking back and spread the ball wide. The slick interchange of passing and nimble footwork from the pre-teen players as they score a length-of-the-field try makes a mockery of the impossible conditions. The next generation is well on its way.
Having received the blessing of the Kemp family, Jordan's Hawks club mates will today take the field against Horohoro in Maungaturoto, on the domain where Jordan grew up, learning and loving rugby. Jerseys will be presented and silence observed before the first match kicks off at 12.30pm. Then the rugby will go on — without Jordan Kemp.