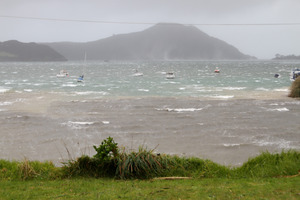 As Northland struggles to get back to normal after a week of bad weather, it is set to get hammered by high winds and heavy rain overnight and into tomorrow, and Auckland will be in the gun as well.
Civil Defence officials have spent the day preparing Northland for another bout of heavy rain on top of already flooded land.
Northland Civil Defence Emergency Management Group spokesman Graeme MacDonald said a "sting in the tale" of the stormy weather front has been well planned for.
"There's been plenty of warning and a raft of contingencies, covering everything from managing further expected flooding in areas like Moerewa, Kaitaia, Kawakawa and Kaeo, to welfare issues like food and water, have been worked through and put in place."
Mr MacDonald said the prospect of further power cuts was of "big concern" as more damaging northeasterly gusts were expected overnight.
A further 75-100mm of rain is expected for the Mid-North between Kaitaia and Whangarei where flooding has already affected the state highway network.
"If the heaviest falls occur as expected overnight and reach the predicted hourly intensities of anywhere up to 30mm per hour in isolated spots, it will impact pretty much immediately and increase surface flooding dramatically," Mr MacDonald said.
Philip Duncan of WeatherWatch said Auckland would be in for gale-force winds tomorrow.
He said the strongest winds would be felt around coastal and rural Auckland, the Hauraki Gulf, Eastern Waikato and western Coromandel Peninsula, and lower Northland.
Wind gusts could reach 100km/h to 110 km/h tonight and early tomorrow morning in exposed parts of Auckland.
Mr Duncan said rain around Auckland tonight would turn heavy by dawn tomorrow, and localised bursts of heavy rain could cause flash flooding and surface flooding in Auckland and Northland.
The winds would die out in the top of the North Island by Saturday night and Sunday should be a calm day, he said.
Far North power company Top Energy said 1000 households are still without power.
At the height of the storm on Tuesday 16,000 properties, half of all its customers, were without power.
Forecast
Whangarei: Heavy rain overnight and in to tomorrow morning. Gale northeasterlies will ease to light westerlies by tomorrow night. A few showers on Sunday and light winds.
Auckland: Heavy rain tomorrow that will turn to showers by tomorrow evening. Gale northeasterlies will ease to light westerlies. Chance of showers on Sunday and light winds.
Hamilton: Rain could be heavy tomorrow with dying northeasterly winds. Occasional showers on Sunday and light winds.
Tauranga: Rain getting heavier afternoon tomorrow and strengthening northeasterlies. Winds will die out on Sunday and rain will turn to showers.
Wellington: Occasional rain mainly in afternoon and northerly winds. Brief periods of rain on Sunday and light winds.
Christchurch: Fine with high clouds and gusty northeasterlies tomorrow. Cold southerlies and rain move in Sunday afternoon.
Dunedin: Fine with high clouds and northeasterlies tomorrow. Showers and cold southerlies from Sunday morning.
- APNZ