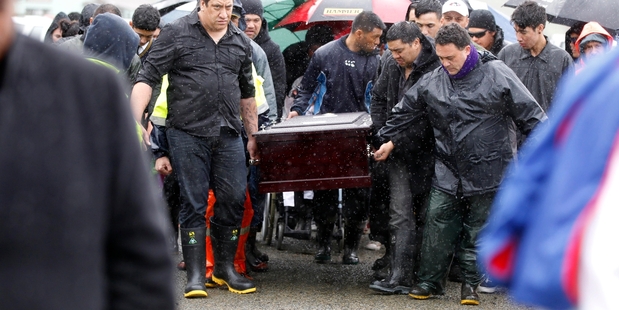 Hundreds gathered in stormy weather to say haere ra to a young Northland rugby player - four days after he died from a head injury he suffered while playing for his club.
Mourners and vehicles lined the road leading to the Otamatea Marae, where a tangi was held yesterday before Jordan Kemp's body was taken to an urupa, or cemetery, about 100m away.
Pallbearers, including Jordan's cousins and uncles, walked along a footpath in front of the marae before turning right on to the main road and on to the urupa.
The marae and several outbuildings were packed with mourners, leaving many to brave torrential rain outside during the hour-long funeral service.
Students of Auckland Grammar School, where Jordan had been in the first XV, performed a haka as the 17-year-old's coffin was carried out of the marae. His teammates at Otamatea Hawks repeated the act before his body entered the urupa.
Northland MP Mike Sabin, Wayne Peters and representatives from the Northland Rugby Union, including Jeremy Parkinson, Andrew Golightly, Greg Shipton and Ajit Balasingham, were among those present.
Otamatea Hawks player Zane Phillips said his team's emotionally charged haka showed the high regard they had for Jordan.
"It [the haka] shows how much mana he had. That was our powhiri. He's our bro."
Mr Phillips said Jordan was an "awesome dude" who he had known since childhood.
Danny Morgan of Kaiwaka was also at the funeral and described Jordan as an "up-and-coming" rugby player. He and Jordan's father, Aaron, are first cousins.
Mr Morgan and his daughter used to run a kapa haka group for Otamatea High School to which Jordan and his sisters belonged.
"He was very quiet but got down and did his job. Very polite boy ... it's a big loss," said the quarry worker.
Mr Morgan said he was at the Otamatea Hawks match against Wellsford in Kaiwaka early this year when Jordan received his first head knock.
He said Jordan had got up after that knock and walked a few metres before he was attended to by St John Ambulance paramedics.
Jordan was taken off life support at Auckland City Hospital on Sunday after he suffered a suspected brain bleed during a match between his Otamatea Hawks premier reserves and Old Boys Marist at Kensington Park, Whangarei, on Saturday.
His body arrived at the marae on Monday night.
- APN