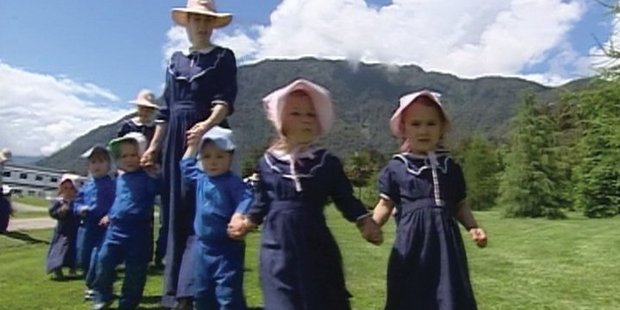 A new documentary on the Gloriavale Christian Community on the West Coast follows the six-week courtship and marriage of one young couple, after leaders at the Lake Haupiri community opened the doors to a film crew.
Gloriavale - A World Apart will screen next week on TV2 at 9.30pm.
Read more: Christian community hits West Coast vaccination rates
Pacific Screen Ltd producer-director Amanda Evans said she had a good relationship with the people of Gloriavale when they first met during their production of the 2009 series My God.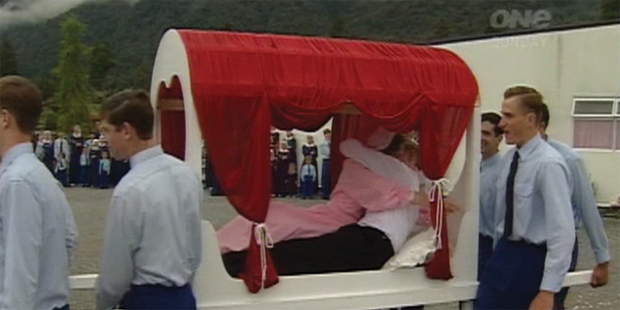 A couple kiss after getting married at Gloriavale. Photo / TVNZ file
Their approach to make the documentary was met with some consternation as the Christian community had experienced negative treatment by some media over the years, but Ms Evan said her approach was open-minded and unbiased.
She found Paul Valor, the subject of this documentary, an "open hearted young man, full of fun and enthusiasm".
Publicity information on the documentary says young men marry within the community to a girl they have grown up with.
"It's the Gloriavale equivalent of an arranged marriage. Teenaged boys and girls are not encouraged to talk to each other until a wedding between them is arranged."
The documentary makers follow Paul and his courtship and marriage to Pearl Hope.
"As the second generation of his family born inside the community, Paul has no practical knowledge of how things work in the outside world, apart from what he's told by his grandparents and the leaders.
"The leaders of the community are 12 senior men who decide everything, from where Paul will live and work, right through to who he can and can't marry."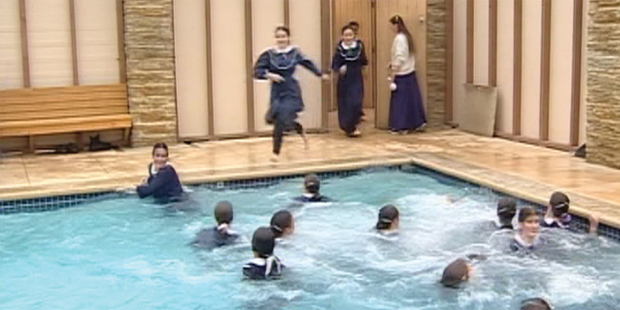 Children swim fully clothed at Gloriavale. Photo / TVNZ file
In marriage, Pearl will follow her husband's lead and do whatever he says. They will have as many children as they can possibly conceive, each one seen as a gift from God.
Paul Valor is the eldest of 11 children and Pearl the second youngest of 10.
He works in the community's meat meal factory, which dries offal for the pet food market in New Zealand and overseas, while she works each day on a roster doing the cooking, cleaning and laundry for the entire community of about 400.
"Viewers may well find aspects of life here hard to understand or accept," Ms Evans said.
"However, there's no denying the extraordinary things the community is able to achieve as they work together bound by their strong faith and a really strict set of rules. In 21st century New Zealand there's nothing quite like it."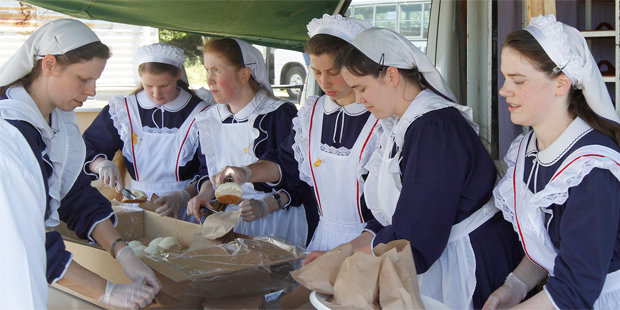 Food being prepared in Gloriavale. Photo / TVNZ file
- Greymouth Star