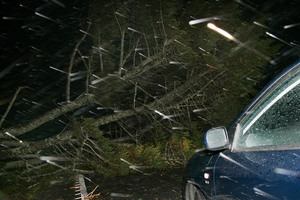 A Thames mother gave birth in the back of a car this morning as she was driven across farmland to avoid a fallen tree and powerlines blocking the road to hospital.
"The journey started with two and it ended with three," Thames Volunteer Fire Service senior station officer Shane Bromley said.
The brigade met the couple just after 3.30am today after their road to the Thames Birthing Unit was blocked by a wild storm which ravaged the upper North Island last night.
"When we got up to Kauaeranga Rd, we couldn't go any further because a large tree was blocking the road and had pulled powerlines down and a power pole. I don't know if they were live at the time, but they could have been," Mr Bromley said.
The woman, who had been on the verge of giving birth and with a male companion believed to be the father of the baby, were stuck on the other side on the fallen tree when they called for for help, Mr Bromley said.
Due to their isolated location, the woman's partner had left her in the car to run up a hill to obtain cellphone reception, he said.
A local farmer then opened a series of gates on his property to allow the couple to drive around the blocked road, and they drove through the farmland to meet emergency services, Mr Bromley said.
By the time they reached the waiting ambulance, the baby girl had been born.
"The winds were blowing and it was raining and yeah, it was pretty horrible.
"When she arrived on the other side, down through the farm by the gate, she had given birth," he said.
"The ambulance lady hopped in the vehicle with the mum in the back seat...checked out the bub and the mum and we put blankets over them both and I think she cut the cord ... I was sitting in the front, giving them some dignity."
Mr Bromley said he then drove the new mother, baby girl and paramedic to the Thames Birthing Unit in the couple's car, with another firefighter taking the wheel of the ambulance.
He said he spoke to the new parents who were "just happy that we were there".
However, the unconventional birth didn't spell the end of the night for the Thames Volunteer Fire Service, which responded to another six calls this morning, including downed trees, powerlines, a gas leak and a roof which was lifted off a house by the wild winds, Mr Bromley said.
"The crew were pretty excited [they were] going to something very positive. Given [we attend] negative stuff all the time where people are getting injured.
"Instead of going to people's misfortunes - it's come to a very good and lucky outcome."
- APNZ