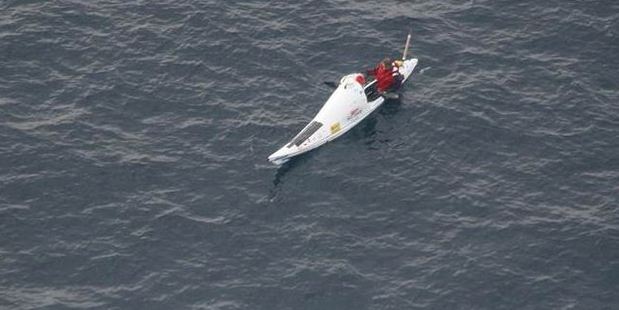 A kayaker attempting the first solo crossing across the Tasman has drifted further away from the Taranaki coast overnight as rough seas and weather have forced him to "hunker down" in his vessel.
Taupo rescue pilot John Funnell said today that kayaker Scott Donaldson had drifted seven nautical miles in the last 22 hours.
"He's currently 34 [nautical] miles off the coast off Taranaki."
Photos: Trans-Tasman kayaker Scott Donaldson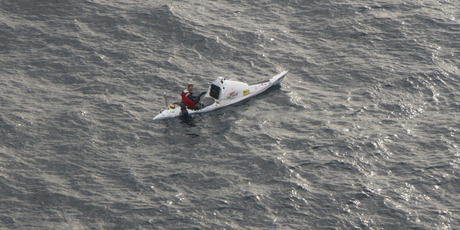 The kayaker was continuing his southwest drift, Mr Funnell said.
Forecasters have predicted rough weather will continue for a few days, he said.
The delay was "disappointing for everyone".
"Scott knows there's not a lot he can do about this, he's been preparing for this for ages and he just has to hunker down and rest up."
Mr Donaldson was within sight of Mt Taranaki, but poor weather halted his attempts to make it to land, three months after he set off on his journey.
A ship sent to shadow Mr Donaldson to shore was forced to returned to port yesterday because of bad weather.
The MV Reef Spirit set sail from New Plymouth on Monday with the intention of remaining with him to the finish. But weather conditions became so bad, it was deemed too dangerous for the vessel to stay.
Despite the wild weather, Mr Donaldson remained unfazed, Mr Funnell said.
"He's done three months of it ... he's faced these conditions out in the mid-Tasman in the past -- this is all part of his psyche, he just knows he's got to take it easy.
Video: Scott Donaldson in action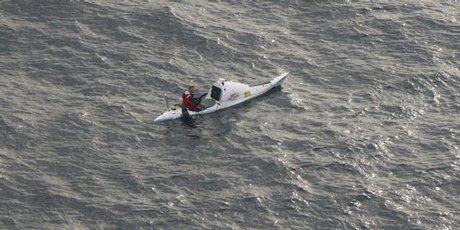 Conditions were expected to abate by Saturday and Mr Donaldson was expected to reach landfall at Port Taranaki by Sunday or Monday, Mr Funnell said.
"[Mr Donaldson] sends texts to everyone, generally annoys them all day to fill the day in."
He hadn't paddled at all yesterday as the weather was too rough, Mr Funnell said.
Mr Funnell, who has made three supply drops to Mr Donaldson, said he had never met him and became involved only after Mr Donaldson's wife Sarah appealed for him to help.
"His wife rang up and said 'my husband's kayaking the Tasman and he's run out of food'."
Mr Donaldson left Coffs Harbour in New South Wales on April 19, hoping to be the first person to kayak solo across the Tasman.
Friends tracking kayaker's every move
Former Rotorua athletes and friends of trans-Tasman kayaker Scott Donaldson are tracking his every move to make sure they are in New Plymouth for his arrival.
Donaldson is now expected to make landfall on Saturday after strong easterly winds pushed him back from the Taranaki coastline. When he does finish he will be the first person to kayak solo across the Tasman Sea.
The 44-year-old from Rotorua has coached a number of people in the city and car-loads of people are getting ready to welcome him back to New Zealand.
"There's a lot of anticipation," said Sarah Pitcher-Campbell, who was coached by Donaldson for XTERRA in 2009.
"Most of us are or have been members of Rats [Rotorua Association of Triathletes and Multisport]. Scott has been influential to us either as a coach, masseuse or friend.
"We see what he's doing and it puts it into perspective what we're doing.
If he can do this then I can train for Ironman.
"I think it's going to be amazing to be there.
"Scott is a very strong person. Most people wouldn't even begin paddling." One person who won't be at the celebration is Guy Nelson. He has been coached by Donaldson for three Ironman races and the ITU Age Group World Long Course Triathlon Championships.
Nelson will instead be receiving treatment for brain cancer, which he said had been mitigated by the skills Donaldson had instilled in him as part of the Ironman training.
"Scott is a key individual who gave me a bunch of skills that have helped me be here today," Mr Nelson said.
"He's had a major impact. He has a really good ability at teaching mental skills and mental strength. Those tools he taught me for applying in long distance triathlon racing have come into play and are very much in the forefront of my battle. I'd love to see him come in; I feel I owe him a huge amount." He said Donaldson's wife, Sarah, should also receive some recognition for the support she gave to her husband's pursuits.
"As an adult you have your demons from time to time and quite often that can be brought up around the coffee table. Being a wife she bears the brunt of that -- Sarah is a vital ingredient in this feat."
- APNZ