Been hit by the bad weather? Send us your stories, photos or video here.
A Kawakawa farmer says he took quite a risk to rescue two people trapped in cars in fast-moving flood waters.
Harry Shepherd, 74, and Senior Sergeant Peter Robinson of Kerikeri used Mr Shepherd's tractor to reach the two people trapped in their cars in fast-moving water at the bottom of Lemon's Hill on State Highway 11 at Kawakawa.
Police had been stationed at the flooded section of road, blocking motorists from passing, however a man driving a van and a woman in a rental vehicle decided to try to drive through the flooded water around 6am.
Watch: WeatherWatch: Gales to spread elsewhere
They became stuck, and Mr Shepherd came across the scene on his tractor.
"They should never have tried to cross," Mr Shepherd said.
"I picked up the policeman in the bucket [frontloader] and we went across to them."
The water was moving quickly and Mr Robinson pulled the van driver into the bucket, and then went to the woman in the car.
"That was the scariest thing," Mr Shepherd said.
"When [Mr Robinson] pulled her in to the bucket the car floated away.
"The look on that girl's face - I'll never forget."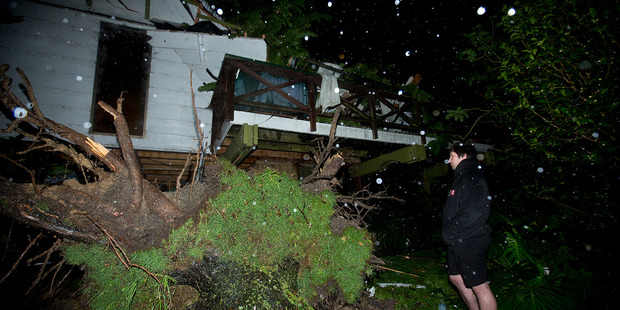 Neighbour Thomas Knight looks at where a tree smashed through a Kaitaia house, trapping a woman inside. Photo / Dean Purcell
Mr Shepherd said Mr Robinson did a very good job.
"He was very careful and managed to calm the lady down as he got near her."
The car was still stuck in the flood waters ten hours later, and Mr Shepherd said he would try to drag it out when the waters recede.
Mr Shepherd has been a farmer in Kawakawa for 51 years, and has seen the section of land flood many times, however this was something else, he said.
"We probably took quite a risk ourselves. We wouldn't have wanted it to be any deeper."
Around 15 minutes later and they were all back safely on dry land. Both the man and the woman thanked Mr Shepherd for what he had done.
He spent the rest of the day checking on his cattle and ferrying people across the flooded section of road.
While speaking to APNZ he transferred a man and a motorbike over to the other side of the road.
Acting Far North Area Commander Senior Sergeant Rhys Johnston said Mr Shepherd was a "hero farmer".
"The situation had the potential to become very serious."
In the floods of 2007 Mr Shepherd got up in the middle of the night to rescue two men who were stuck up a tree in the flooded paddocks after their car became stuck.
The water was too deep for his tractor, so he used his boat to rescue the men.
Watch: Wild weather in Northland