Been hit by the bad weather? Send us your stories, photos or video here.
A Kawakawa farmer says he took quite a risk to rescue two people trapped in cars in fast-moving flood waters.
Harry Shepherd, 74, and Senior Sergeant Peter Robinson of Kerikeri used Mr Shepherd's tractor to reach the two people trapped in their cars in fast-moving water at the bottom of Lemon's Hill on State Highway 11 at Kawakawa.
Police had been stationed at the flooded section of road, blocking motorists from passing, however a man driving a van and a woman in a rental vehicle decided to try to drive through the flooded water around 6am.
Watch: WeatherWatch: Gales to spread elsewhere

They became stuck, and Mr Shepherd came across the scene on his tractor.
"They should never have tried to cross," Mr Shepherd said.
"I picked up the policeman in the bucket [frontloader] and we went across to them."
The water was moving quickly and Mr Robinson pulled the van driver into the bucket, and then went to the woman in the car.
"That was the scariest thing," Mr Shepherd said.
"When [Mr Robinson] pulled her in to the bucket the car floated away.
"The look on that girl's face - I'll never forget."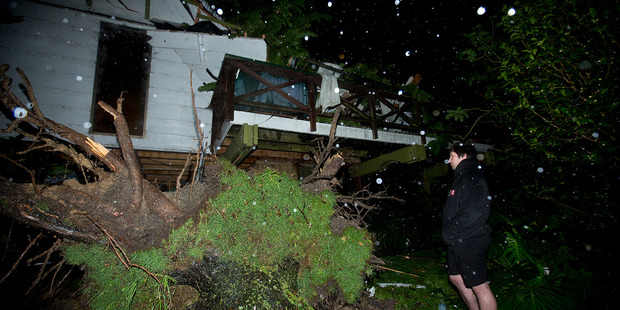 Neighbour Thomas Knight looks at where a tree smashed through a Kaitaia house, trapping a woman inside. Photo / Dean Purcell
Mr Shepherd said Mr Robinson did a very good job.
"He was very careful and managed to calm the lady down as he got near her."
The car was still stuck in the flood waters ten hours later, and Mr Shepherd said he would try to drag it out when the waters recede.
Mr Shepherd has been a farmer in Kawakawa for 51 years, and has seen the section of land flood many times, however this was something else, he said.
"We probably took quite a risk ourselves. We wouldn't have wanted it to be any deeper."
Around 15 minutes later and they were all back safely on dry land. Both the man and the woman thanked Mr Shepherd for what he had done.
He spent the rest of the day checking on his cattle and ferrying people across the flooded section of road.
While speaking to APNZ he transferred a man and a motorbike over to the other side of the road.
Acting Far North Area Commander Senior Sergeant Rhys Johnston said Mr Shepherd was a "hero farmer".
"The situation had the potential to become very serious."
In the floods of 2007 Mr Shepherd got up in the middle of the night to rescue two men who were stuck up a tree in the flooded paddocks after their car became stuck.
The water was too deep for his tractor, so he used his boat to rescue the men.
Watch: Wild weather in Northland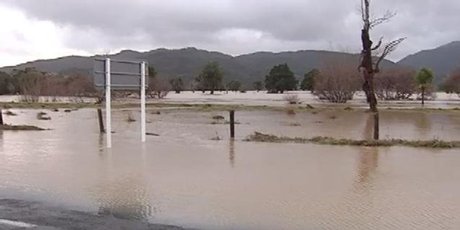 Thousands still without power
More than 20,000 upper North Island residents will be without power tonight, some for a second night, following a savage storm which power companies say caused the most damage in more than a decade.
Auckland lines company Vector said crews continued to make good progress with power restorations since the storm's peak last night, despite fresh outages caused by debris being blown around in high winds.
Power has been restored to thousands of customers this evening -- including to almost all of Waiheke Island -- however 2871 customers are still without power in the Auckland region. That figure is down from 16,900 at the height of the storm.
Far North power company Top Energy said about 11,000 households in the region would be without power tonight following extensive damage to the region's network.
"This is likely to include the 9,000 customers who were without power last night."
CEO Russell Shaw said repair crews have been battling high winds and driving rain all day to restore power to 33,000 volt main feeder lines which brought electricity to sub-stations before it was distributed to individual properties.
The next step was to repair the 11,000 volt distribution lines and finally the smaller lines and individual 'no power' faults, he said.
Repairs were being hampered by significant access issues caused by downed trees and extensive flooding, Mr Shaw said.
"Our lines staff have had to chop trees off roads just so we can get to the lines."
Mr Shaw said the storm was the most severe event the company had experienced for at least a decade and the scale of damage to the network was immense.
"Sturdy concrete electricity poles have been blown down and even snapped and large 50-60 year-old trees have been blown down across lines and access roads."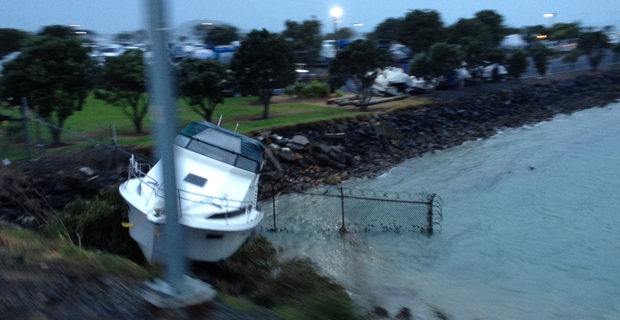 Photo / Andrew Mann
Winds gusting up to 160 km/h had also ripped lines out of the cross-arms on electricity poles, Mr Shaw said.
Lines company for the Whangarei area, Northpower, said the storm had been the worst it has experienced in the past seven years. About 6500 customers on the network remained without power.
MetService duty forecaster Andy Downs said the wild weather was being caused by a combination of a slow-moving low north-west of Cape Reinga and a very intense high further south.
"This is certainly on the high-end of severity of storms, for sure. The moment you start getting trees that have been there a long time blowing down and roofs lifted -- that's pretty severe."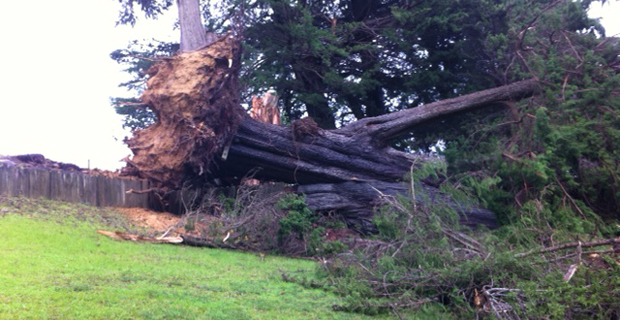 Photo / Reader supplied
However, the storm was no worse than others that had struck the region in recent years, with more severe weather events caused by former tropical cyclones, Mr Downs said.
"In those situations we can have mean speeds at what we are getting gusts at [now]."
MetService forecasters said the unsettled weather was expected to gradually weaken overnight.
Severe easterly gales, with gusts around 120 km/h in exposed places, were expected to gradually ease in Northland, Auckland north of the Harbour Bridge and Coromandel Peninsula including Great Barrier Island.
However, until that time strong winds had the potential to damage trees, powerlines and unsecured structures and make driving conditions hazardous. Further moderate to heavy rain was likely and could lead to further surface flooding, slips and cause already swollen rivers to rise further.
Who to call for outages
Vector electricity: North Shore, Waitakere or Rodney 0800 948 100 (option 1) | Auckland, Manukau or Papakura call 0508 VECTOR (0508 832 867)
Vector gas distribution (Auckland-wide): 0800 764 764
Vector gas transmission (Auckland-wide): 0800 734 567
Northpower (Kaipara and Whangarei districts): 0800 104 040
Top Energy (Far North district): 0800 867 363