Visit to optometrist led to removal of a golfball-sized brain tumour pressing on eyeball.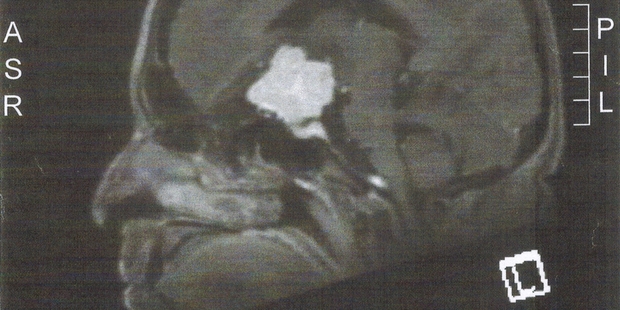 An Auckland woman says she owes her life to an eye test finding abnormalities that were caused by a brain tumour.
Fifty-nine-year-old Sally, who asked that her surname not be published, had a golfball-sized meningioma pressing on the optic nerve behind her left eye.
Sally, of Ramarama, said the Auckland City Hospital surgeon who removed the tumour told her that although it had been growing slowly, it could have been fatal.
Since the age of 12, she has worn glasses for short-sightedness. In late 2012 the vision in her left eye deteriorated and she had near-continous headaches.
"It was coming up to Christmas and we were in the Manukau City mall. I kept banging into people with my left shoulder really hard and it hurt. I thought maybe I was losing peripheral vision in my eye."
She went for an eye test with optometrist Dhruv Mehta. He said yesterday: "When I was testing Sally's eyes I could see some clear abnormalities that had me concerned.
I knew I needed to get her to a specialist as soon as possible."
In Mr Mehta's five years as an optometrist, Sally was his third specialist referral in whom a brain tumour had been diagnosed.
Sally's tumour was detected by an MRI scan at Auckland City Hospital.
"When I was shown the printout of the tumour that was pressing on my optic nerve and told that I would be admitted to hospital, I was gob-smacked. I had walked into Specsavers Papakura for an eye exam and a few weeks later I was admitted to hospital to have a brain tumour removed."
The surgery removed all of the tumour, but Sally suffered a stroke during the operation and she has since had anothe. She has also had seizures.
After the operation she spent several weeks in rehabilitation therapy at Middlemore Hospital and had to re-learn how to speak and eat. Shestill has memory problems and, partly due to the anti-seizure medicine she takes, is unstable on her feet.