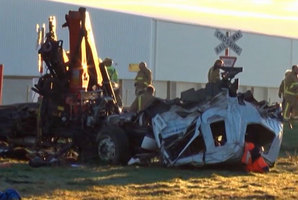 The young man whose vehicle collided with a train on Northpark Rd, just north of Ashburton, has died in hospital.
Witnesses reported hearing the driver of the southbound freight train sounding the horn repeatedly before it hit the westbound truck at about 8.15am on Monday.
The Westpac Rescue Helicopter flew the truck driver to Christchurch Hospital, where he succumbed to his injuries yesterday. The train driver was uninjured but badly shaken by the event, KiwiRail reported.
A police spokesperson said the deceased man will probably be named today.
It was the second collision involving a truck and train on the Give Way-controlled railway crossing in a year, and the second fatality. In May last year a Verkerk's truck-and-trailer unit was hit by a southbound train at about the same time of day. Miraculously the driver walked away on that occasion.
In 2002 a motorcyclist was killed on the same spot after he was struck by a train.
KiwiRail is currently in the process of installing flashing lights and bells on the crossing, and had workers on the site at the time of Monday's collision.
However, nearby residents and those who use the crossing to access the Ashburton Business Estate want the upgrade to include barrier arms. They say sunstrike was a factor in last year's collision, and possibly this fatality.
Rural Transport operations manager Rhys Young said lights and bells would not be enough to stop the carnage at the crossing.
He said sunstrike was the biggest problem.
EA Networks chief executive Gordon Guthrie said his company had been pushing KiwiRail to upgrade protection on the crossing for some time. He also cited sunstrike as a major issue.
"I notice between 8 o'clock and 8.30 the sunstrike is terrible on that part of the line at this time of the year - and I come that way every morning," he said.
Investigations into the cause of Monday's collision are ongoing.
- APNZ