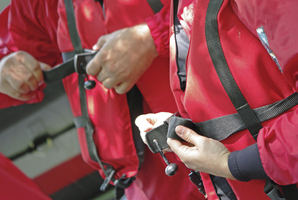 Maritime rules should be reviewed to ensure boaties always carry and wear lifejackets, especially in small vessels, following the avoidable death of a fisherman who drowned close to shore and was not wearing a lifejacket, a coroner says.
Leon Grant Scurrah, 43, drowned after falling out of his small aluminium boat in Wellington Harbour in August, 2012, Coroner Garry Evans said in his finding into the death.
Mr Scurrah had bought the 3.5m dinghy with an outboard engine from a relative a month before the incident - it was the first boat Mr Scurrah owned.
On the afternoon of August 18 he and his friend Paul Keating launched the boat from the Petone boat ramp in ideal boating conditions to set a fishing net, Coroner Evans said.
Mr Scurrah was wearing gumboots, jeans and a polar fleece. There were two lifejackets on board the boat, but neither man was wearing one.
During the trip Mr Scurrah stood up while the boat was moving and leaned or moved to the front of the vessel.
"As he transferred his weight the boat suddenly capsized and both men were thrown into the water, holding onto the upturned boat," Coroner Evans said.
Mr Scurrah was able to kick off his gumboots.
The men stayed with the vessel until it began to sink and they were forced to swim towards the shore.
"They were swimming together until about 20 metres from the shore when Mr Scurrah said 'I'm not going to make it'," Coroner Evans said.
Mr Keating made it to the shore and returned to his friend with a log to hold onto, but he was unable to find him.
Mr Scurrah's body was found that evening, about 50m from the shore on the seabed.
"Had Mr Scurrah been wearing a lifejacket it is...almost certain that he would have survived.
"Mr Scurrah's sad death is a poignant reminder that small boats may suddenly capsize and sink in the most benign of sea conditions leaving no time for the occupants to retrieve and don the personal flotation devices needed to save their lives."
Coroner Evans has written to Transport Minister Gerry Brownlee urging a review of the Maritime Rules in regards to carrying and wearing lifejackets on recreational boats and the whether it should be made compulsory for occupants of boats smaller than 6m to wear a lifejacket.
In a separate finding, Christchurch chef Martin Walter Weiss drowned in his home pool after probably suffering a seizure, Coroner Richard McElrea said.
Mr Weiss was also intoxicated, but the coroner said while it was a plausible explanation for the drowning, it was a less likely explanation.
Mr Weiss was found dead on the bottom of the family swimming pool by his wife and children in October last year.
A toxicology analysis found Mr Weiss's blood alcohol level was 352mg per 100ml of blood.
His doctor told Mr McElrea he suspected Mr Weiss would have been "highly tolerant" of alcohol. Mr Weiss's wife said her husband would struggle with alcohol but he would "pull himself back into check".
He had a passion for wine and was a high achiever, she said.
Tests performed on Mr Weiss after he died found he suffered from an unknown and rare brain condition, which probably caused a recent seizure, which was never medically followed up.
Coroner McElrea ruled that a seizure was the most likely cause of Mr Weiss's drowning.
Mr Brownlee said maritime rules varied around the country.
"So I've been asking the Ministry of Transport to look at having a standardised set of rules."
Anyone who got in a small boat without a life jacket on was "crazy", Mr Brownlee said.
Officials were looking at the practicalities of making life jackets compulsory, he said.
"If people were as zealous about putting on lifejackets as they were about [wearing seatbelts], we'd be in great shape."
- APNZ