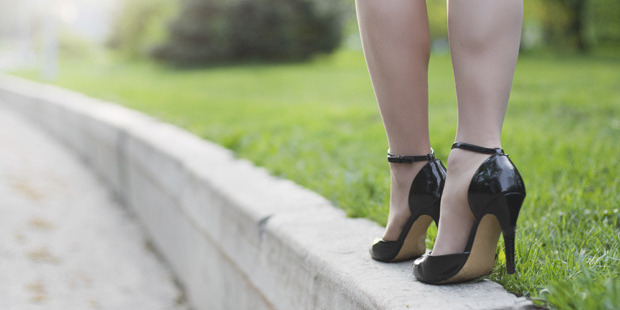 Kiwi men are clumsier than women, unless they are on a plane, overseas or living on the North Shore or Kapiti Coast. And, as every parent knows, scissors are more dangerous than staplers, and you can get hurt in a pillow fight.
These are some of the more quirky revelations in statistics compiled by ACC from the 1.7 million claims it receives each year.
ACC has released the data as part of an injury-prevention campaign in the form of a quiz that poses questions such as whether gumboots are more dangerous than high heels, or whether you're more likely to dislocate an elbow playing air guitar or dancing the tango.
"Injuries can happen anyhow, anywhere, at any time," ACC's head of insurance products David Simpson said.
If you've ever felt that stepping on to an escalator was a perilous exercise, your fears were well founded, with 447 people coming a cropper last year.
Taking the lift was much safer, with just 85 people harming themselves during an elevator ride.
Perhaps the most baffling figures came when comparing the sexes, with claims by men outnumbering those of women in every district in the country except for Kapiti Coast and the North Shore. Women, however, struggled to stay safe on planes with 38 injuring themselves on domestic flights and 52 in foreign skies. The combined total for men was just 50, split evenly over domestic and international flights.
Cats (6451) are around three times safer than dogs (18,461), and there were 27 hunting accidents reported in Auckland City.
Some injuries did conform to type, with the Far North reporting the highest number of gumboot injuries (35) and Auckland the most high heel-related injuries (240).
Auckland student Debbie Dawson has experienced first-hand the risky mix of high heels and alcohol on a Saturday night out.
"I was running through a friend's house and fell over," the 25-year-old said. The twisted ankle, grazed knee and elbow didn't stop her from hitting the town later that night. She avoided seeing a doctor, opting instead for bed rest. "I try not to wear really tall high heels now because I fall over and they give me blisters."
Injury face-off - the quiz
Which produced more ACC claims in 2013?
1. Gumboots or high heels?
2. Pillow fights or arm wrestling?
3. Air guitar or dancing the tango?
4. Elevators or escalators?
5. Cats or dogs?
6. Christmas Day or New Year's Day?
7. Boating or golf?
8. Men or women?
9. Fishing or hunting?
10. Staplers or scissors?
Answers: 1. High heels, 780 claims (gumboots, 741 claims)
2. Pillow fights, 45 claims (arm wrestling, seven claims) 3. Dancing the tango, 15 claims (air guitar, zero claims) 4. Escalators, 447 claims (elevators, 85 claims)
5. Dogs, 18,461 claims (cats, 6451 claims). 6. New Year's Day, 5251 claims (Christmas Day, 3119 claims). 7. Golf, 6482 claims (boating, 3309 claims) 8. Men, 959,509 claims (women, 824,562 claims) 9. Fishing, 2976 claims (hunting, 1306 claims) 10. Scissors, 1098 claims (staplers, 528 claims)

- additional reporting Mat Ogilvie