Relief, delight for family after special surgery in US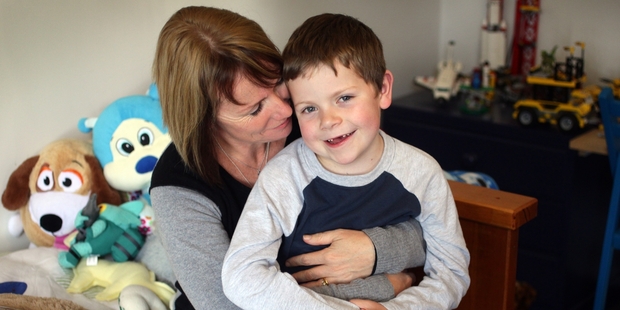 Melanie Walsh is watching her son Patrick make slow but delightful progress at their Auckland home after a lifesaving operation in the United States for a rare heart condition.
Seven-year-old Patrick suffers from a congenital heart defect called Ebstein's anomaly. It's believed just 11 cases have been reported in New Zealand. The $160,000 surgery in the US on May 16 took six hours and was "textbook perfect", the relieved mum said.
Walsh recalled sitting with her husband, John, in an onsite church while the surgery was taking place.
"We didn't talk much. We just sat there and felt stressed."
The operation was carried out at the Mayo Clinic by top Ebstein's surgeon Joseph Dearani, after the family raised $200,000 to cover the costs of surgery, travel and accommodation. Dearani and his team created a new valve using existing tissue and moved it into the proper position in the heart. The team also found a shunt was necessary to redirect blood flow from the upper half of Patrick's body to his lungs.
"It was such a relief to be able to go and see him afterwards, even though it was horrendous," Melanie Walsh said. "He had ventilator tubes, test tubes and multiple IV access points in his body. He was sedated and a machine was breathing for him.
"It was just bizarre seeing your kid like that but we were just relieved that he was alive."
Auckland paediatric cardiologist Tom Gentles said the defect occurred when the valve between the chambers on the right side of the heart weren't built normally. "The heart works less efficiently and its ability to pump blood through the lungs can be compromised."
Before surgery Patrick's heart was enlarged and his right valve function severely decreased, Walsh said.
Six weeks after surgery Patrick is rapidly recovering.
He told the Herald on Sunday he has been attending school and can play with older siblings Alec, 11, and Elise, 8. "I'm happy to see my friends again and to be back at school," he said.
Cardiologists have told the Walshes that Patrick will need more surgery in his teenage years and constant monitoring for the rest of his life. "For now, we are happy with the outcome," his mum said.
"We will deal with the rest when it happens."