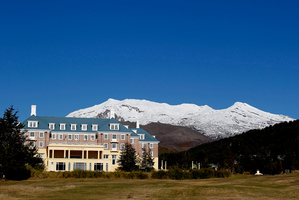 After "messy" weather to start the weekend tomorrow, most of the country will enjoy a fine Sunday as the outlook for skiers and snowboarders continues to improve.
MetService duty forester Mariken van Laanen said a trough was due to move over the country tomorrow, bringing some rain to western regions.
Weather tomorrow was looking "pretty messy" with showers and cloud forecast for most of the country, Ms van Laanen said.
"There's already gales in coastal Southland and Otago at the moment and then tomorrow morning we've got westerly gales developing about the Tararua District, Hawkes Bay south and Napier."
Snow was also forecast down to 700m in Southland, while Queenstown could be in line for sleety showers, Ms van Laanen said.
But the outlook was better for Sunday.
"Sunday's actually looking really good, we've got a weak ridge over the country and just a few showers over Northland."
Aucklanders could look forward to cloudy periods with occasional showers tomorrow, which were expected to clear by Sunday, she said.
Mt Ruapehu spokeswoman Annah Dowsett said skiers and snowboarders enjoyed a "gorgeous day" on the mountain today.
Turoa ski field officially opened yesterday with 85cm of snowfall, and Whakapapa ski field will open tomorrow, after 80cm of snow yesterday.
"We had the Park Lane chairlift open for skiing which is great. It was blue sky, it was a bit chilly this morning but it warmed up this afternoon and it was a stunning looking day."
Between 400 and 500 keen skiers and snowboarders hit the slopes today, she said.
"We've actually got the biggest snow base in the country now. We went from zero to hero in a very short space of time.
"The problem that we have obviously is that we have to cover volcanic rock and quite large rocks, whereas in the South Island they're just covering tussock."
MetService warned rain or sleet was expected to develop on Lewis Pass this evening, then turn to snow about the summit for a time on Saturday morning.
From 5am to 9am on Saturday morning, 1cm to 2cm of wet snow may accumulate about the summit.
Snow was also expected above 600m on Milford Rd overnight, with 4cm to 8cm from midnight to 9am tomorrow above 800m.
On Arthur's Pass, 1cm to 2cm of wet snow was expected to accumulate above 900m before turning to sleet in the evening.
NZTA has also warned motorists to beware of snow on the Desert Rd from Rangipo to Waiouru.
Around the country tomorrow:
* Whangarei: Cloudy periods, few showers. Westerly easing. High of 17C.
* Auckland: Cloudy periods with a few showers. Westerly easing. High of 17C.
* Tauranga: Cloudy periods with a shower or two. Southwest winds dying out. High of 17C.
* Hamilton: Occasional showers, set to clear by night. Fresh westerly winds easing. High of 16C.
* Wellington: A few showers from late afternoon as gusty north-west winds turn southerly. High of 15C.
* Christchurch: Fine at first before periods of showers in the evening. High of 13C.
* Dunedin: Rain, easing to showers in the afternoon. Winds become strong and cold. High of 9C.
- APNZ