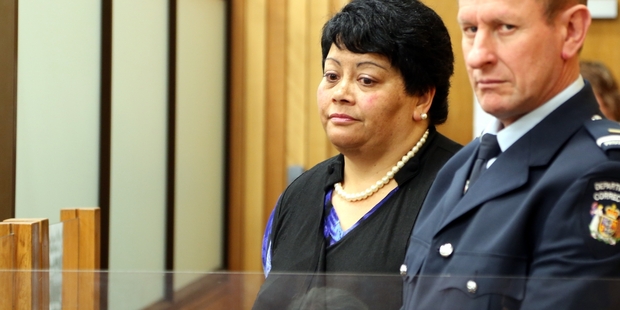 A well-known Marton community worker convicted of fraud gambled for months to pay her staff's salaries.
Toni Lynette Giddens has been heavily involved in youth events in Marton and is Marton's HYPE (Helping Young People into Employment) co-ordinator. She was also employed by Rangitikei District Council as the youth development manager until about six months ago. Yesterday, Giddens, 44, was sentenced in Whanganui District Court to prison on 98 counts of using a document for pecuniary advantage, after pleading guilty in March.
She owes more than $200,000 for false invoices given out during nine months, an amount that adversely affected the victim to the point the mortgage on the family home had to be increased by $190,000, the court heard.
Giddens was the director and shareholder of Hamilton-based company Job Quick Ltd (JQL), providing training and employment services to help people back into the work force. The company was contracted to the Ministry of Social Development in 2007.
Between November 2008 and August 2009, Giddens sold 98 false invoices to Interface Financial Group (IFG), a business that buys invoices at a discounted price so the seller can have immediate payment. IFG was described by Judge David Cameron yesterday as "essentially a family company".
Giddens sent the first false invoice seven days after entering into the arrangement with IFG. The total paid to JQL for the false invoices was $471,541, but some were never submitted by Giddens to the ministry for payment.
When payments to IFG began falling outside its 50-day time frame, Giddens told them it was due to the incompetence of the ministry. Her fraud was uncovered after the victim became "increasingly concerned at the lack of payments", said Judge Cameron.
Giddens' company was placed into liquidation in February 2010.
Invoices sold to IFG totalled $702,335, of which $540,779 was for false invoices. IFG received payments of $283,745, either for legitimate invoices or for others not purchased by IFG but paid by the ministry and credited by IFG toward payment for the false invoices.
JQL also paid a total of $209,484.09, leaving the unpaid amount on the false invoices at $209,105.91.
Giddens told police that late payments from the ministry had caused her stress and financial pressure which led to her arrangement with IFG. Giddens' money problems continued until one day she couldn't pay the staff salaries and took $100 of company money to the Hamilton Casino on the "spur of the moment".
She was successful and continued gambling for months to pay the salaries in what the judge called a "vain hope that gambling would result in increased cash amounts".
Giddens' said she submitted an invoice to IFG early by accident and received payment before the corresponding invoice had been sent to the ministry. She then continued for 97 more invoices.
As well as the money owed to IFG, Giddens said her personal debt was more than $200,000.
She had no previous convictions.
Defence lawyer Debbie Goodlet said her client was paying the debt to IFG back at $500 a week, and had paid $3200 so far.
She said Giddens did not commit the crime for personal gain, but to pay her staff, and that she had taken full responsibility for the offending.
Crown prosecutor Lance Rowe said the offending was a "sustained deception", and said IFG was "repeatedly fed a line of blatant dishonesty".
Judge Cameron said the victim had had to retrain and start a new career as a result of the offending, and as of January still felt "angry and upset at the impact it has had on her family".
He said it was "highly premeditated offending".
"As the state of the agitation of the victim increased, so too did the conniving activities of the defendant."
Giddens was sentenced to two years and four months' prison.
Friends and family packed in the gallery waved to her as she left the courtroom, saying they loved her, some crying.
The total amount of reparation now owed is $205,905.91.
For more articles from this region, go to Wanganui Chronicle