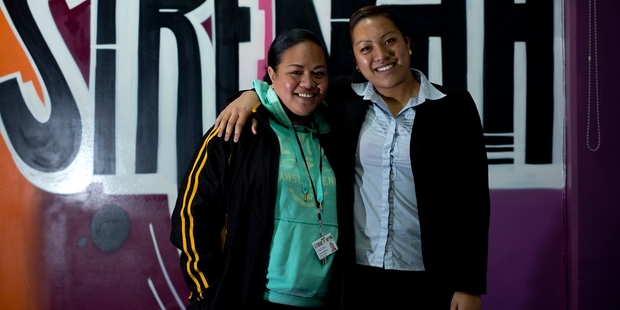 Teen mum Nganoo Joseph hopes to graduate with a level 4 certificate in travel and tourism this year - and credits an All Black's sister with steering her to success.
Ms Joseph, 19, turned aside to hold back tears as she described the help she got from her youth adviser, Kaisalina Mealamu, sister of All Black and Blues player Keven Mealamu.
"I would probably have done it step by step, but Kaisalina helped me so that I had someone that was supporting me along the way," she said.
Ms Joseph's son Liam was born in October 2011 and she spent his first year as a fulltime mum at her parents' home in Mangere Bridge. Work and Income paid her an emergency maintenance allowance, but otherwise they left her alone.
That changed in August 2012, when the old youth benefits were replaced by new youth payments that came with both strict conditions and support.
The conditions included paying most of the money either to Ms Joseph's parents as board or on a payment card that she could only spend at designated stores for food and essentials. She got only $50 a week in cash - barely enough for her train fare to a tourism course in the city, so her parents had to give her extra cash to buy lunch.
The support was Ms Mealamu, who works for Mangere-based Strive Community Trust, one of 48 agencies that are now paid by the Government to support 12,300 teenagers who have either had babies, are no longer financially supported by their parents or are not in employment, education or training.
A Social Development Ministry evaluation of the new system has found that 43 per cent of teen parents gained NCEA credits in their first year in the scheme, compared with 20 per cent of teen parents who were on benefits before the changes. Teens aged 16 and 17, who transferred from the independent youth benefit to the new "youth payment" at the same time, did even better. Almost two-thirds of them (63 per cent) gained NCEA credits in their first year on the new payment, compared with 24 per cent of youths on the previous benefit. But teens on the new youth payment are slightly more likely to stay on benefits initially than before the changes. The evaluation says this is because the support agencies are now told to get teens back into education rather than pushing them straight into work, because acquiring skills is more likely to help them stay in work in the long term.
Ms Mealamu's first step when Ms Joseph was assigned to her was to ask her what she wanted to do. She said she wanted to get into a job such as airline check-in at the airport, so Ms Mealamu helped her enrol in a travel course and find childcare for her son. She hopes to find fulltime work after finishing level 4 this year.
nzherald.co.nz
Read the full Social Development Ministry report at tinyurl.com/nzhyouthservice