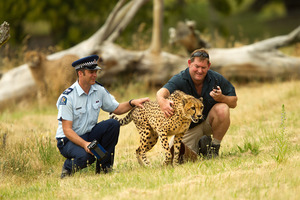 An autopsy has found that a negative reaction to anaesthetic, which led to seizures and most likely brain death, caused the death of a cheetah at Wellington Zoo.
Five-year-old Shomari and her brother Cango were moved from Orana Wildlife Park in Christchurch to Wellington Zoo in May.
Unfortunately Shomari died soon after the move, and in a joint statement from Wellington Zoo and Orana Wildlife Park released today, details of the move and autopsy results were revealed.
The statement explained that Shomari was given a general anaesthetic at Orana Wildlife Park to allow staff to move him into a crate. The drug was then reversed, however the anaesthetic caused Shomari to suffer from a series of seizures that occurred periodically over the next hour.
After the seizures stopped a sedative was administered which improved Shomari's condition.
The decision was then made to continue with the transfer. Although heavily sedated, there was no concern for Shomari's outlook, the statement said.
On arrival in Wellington Shomari was still heavily sedated and only partially rousable. He was removed from the crate and given IV fluids.
Wellington Zoo consulted with a specialist Veterinary Anaesthetist from Massey University on how to treat the symptoms.
A decision was then made by veterinary staff to administer a drug to attempt to reverse the effects of the sedative used earlier in the day.
Although the treatment was reversed Shomari continued to suffer from more seizures, so more medication was administered.
At this point Shomari went into respiratory arrest, and veterinary staff aided his breathing by placing a tube in his throat.
Because of his seizures, he had a clamped jaw so he was given another general anaesthetic to relax his muscles and enable vets to place the tube.
Artificial ventilation continued for 90 minutes during which time Shomari's condition worsened and vets noted a loss of cranial nerve reflexes, corneal response.
This indicated very severe, irreversible brain damage, most likely brain death.
Cardiac arrest occurred at 10:26pm and given the small chance at recovery, no attempts at CPR were made.
The autopsy showed changes in the brain, liver, and kidneys which are all consistent with prolonged seizure activity and loss of oxygen.
There was also damage to the muscle, consistent with prolonged seizure activity.
Both zoo teams said they were devastated by Shomari's tragic death.
Cango, who was transferred to Wellington with Shomari, has been joined by his brother Kunjuka and both cats are doing well.
- APNZ