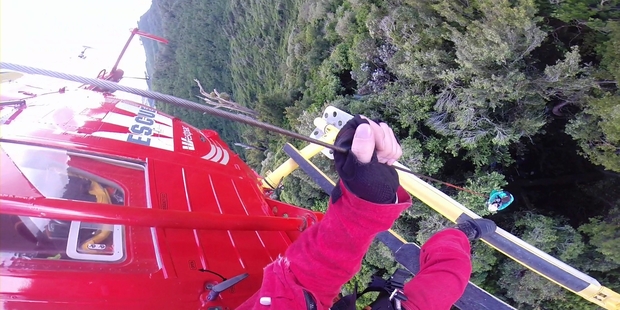 An injured walker was winched out of bush by the Life Flight rescue helicopter crew after activating an emergency locator beacon today.
The 50-year-old woman was out for a day walk at the Hemi Matenga Memorial Park, near Waikanae, when she suffered an injury, the helicopter crew said.
Life Flight responded in the Westpac Rescue Helicopter with a Wellington Free Ambulance Paramedic on board.
The woman was with a group, who activated an emergency locater beacon, making it easier for the rescue team to find them.
The beacon sent a GPS location to the Rescue Coordination Centre who then passed that information to Life Flight.
Crewman Julian Burns said without the beacon the odds of locating them would have been much slimmer.
The crew were unable to land due to the terrain so the paramedic was winched down into a gap in the bush and hiked to the patient's location, then both were winched on board.
The woman was then transported to Wellington Hospitals Emergency Department where she received treatment for moderate injuries.
- APNZ