Convicted sex attacker described as 'grumpy old man' during Kiwi campaign but he could turn on charm.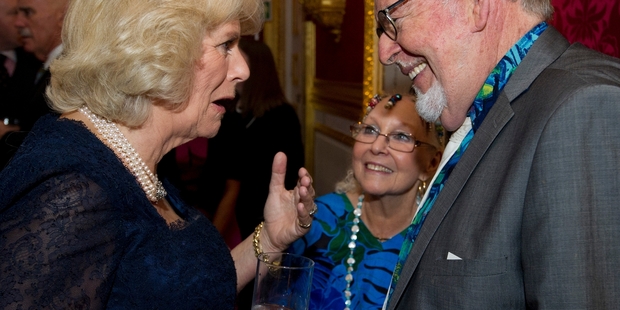 When Rolf Harris visited New Zealand in 1986 to campaign against child abuse, he told the Herald he had a carefree childhood and wanted to "repay a little bit of that carefree childhood to help kids who haven't had one".
Yesterday, 28 years later, Harris was convicted of 12 charges of indecent assault against four young victims.
The entertainer was brought to Hamilton by child abuse prevention agency Parentline to campaign against child abuse and spoke to school children, and at Waikato Hospital and maraes.
Read more on the Rolf Harris verdict in the Herald today:
Family put up show of unity
Harris had developed a video campaigning against child abuse called "Kids Can Say No", which was the reason for the three-day trip according to Herald archives.
The Australian-born personality was a regular face on New Zealand television screens at the time, gaining popularity with his painting, and musical hits such as Tie Me Kangaroo Down, Sport.
Harris was reported in the Waikato Times saying that he had thought child abuse and incest as isolated little incidents until a friend told him a story about a 6-year-old Canadian boy whose " ... uncle was doing all sorts of evil things to him".
Parentline founder and former chief executive Maxine Hodges spent three days accompanying Harris, now 84, on the trip and yesterday described him as "the most unpleasant grumpy old man" when he was in the car with her.
"But the moment we arrived at the next venue he would jump out of the car and be the avuncular, happy performer," she said. "I think I saw the true Rolf Harris who was very much about himself."
Anthea Simcock, who was on the Parentline team at the time of the visit and is now the chief executive of Child Matters, said Harris was a consummate performer who could turn the charm on and off. "It really just goes to show even people on the look out for this, how easy it is to be fooled when people really want to fool you."
Harris allegedly abused two girls during his visits to New Zealand according to the prosecution opening address at Southwark Crown Court in May. The claims were deemed to be outside the jurisdiction of the court and did not form part of the charges.
Harris' convictions, which date between 1968 and 1986, have shocked New Zealand musician Gray Bartlett who played and toured with him throughout New Zealand, Australia and the United Kingdom from 1968 to 1975. Mr Bartlett said he was "stunned" and "very disappointed" for Harris' family and the victims.
Harris will be sentenced on Friday and the judge indicated he should expect to serve time behind bars.