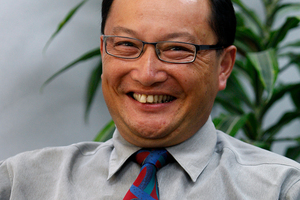 Gisborne Mayor Meng Foon is welcoming a new Government-funded bridge for the region and doesn't care if it is an election bribe or undermines the local consultation process.
The new bridge, which will replace the one-lane Motu Bridge on SH2 between Gisborne and Opotiki, is one of the transport projects to be fast-tracked that the Government announced at the weekend.
The Government has been defending a $100,000 upgrade of the current bridge as a good use of taxpayer money, even though the bridge will be torn down and replaced in a few years.
The Labour Party has called the transport projects "pork-barrel politics" and an election bribe to the regions.
Mr Foon said he did not mind if it was a bribe.
"Whatever you like to think it is, we welcome the project, and the funding. It's been on the books for 20 to 30 years. The council was always in favour of a two-lane bridge."
He said a two-lane bridge would be safer and increase productivity.
"There have been some accidents (on the bridge), but no deaths."
The strengthening work on the current bridge started in April and is expected to be completed in the next fortnight. Work on the new bridge is expected to begin next year and will cost $3m to $5m.
Mr Foon claimed he was misquoted in media reports earlier this week when he reportedly described the $100,000 upgrade as throwing "money in the drain".
Last night he said the upgrade was like "putting a sticky plaster on the current bridge, and we really need a new one".
He acknowledged the NZ Transport Agency consultation process to prioritise projects, but had no problem with bypassing that process.
"The NZTA has always been consulting, but it's just going round in circles at times. It's good to have a directive from central government. Let's hopefully get it done and cut the red tape out.
"The money could be spent elsewhere, but the Government says it's better to be put here. We welcome that and will continue to lobby on other matters at another time."
Labour's economic development spokesman Grant Robertson asked in the House yesterday whether the upgrade was a good use of taxpayer money.
Economic Development Minister Steven Joyce said the $100,000 was money well spent.
"This is 2014. The new bridge will be finished around 2017. So, yes, it needs to keep the existing bridge for a while, while the new bridge is built."
Transport Minister Gerry Brownlee said in a statement that the bridge was a chokepoint that needed a lot of maintenance.
"The $100,000 upgrade will pay instant dividends for the local economy, by making it available to high productivity motor vehicles (heavy truck and trailer units) until construction of the new bridge is completed, which is anticipated to be in 2018."