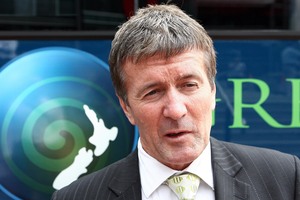 The gloves are off and the fight for the West Coast-Tasman seat just got 'dirty'.
The seat has been held by Labour for every term bar one since it was formed in 1996; National's Chris Auchinvole wrested it off Labour's Damien O'Connor in 2008 but lost it again to Mr O'Connor the next election.
National Party campaign chairman Steven Joyce said over the weekend the party was targeting some Labour-held seats it believed were vulnerable, including West Coast-Tasman.
The party followed that with the announcement from the National Party conference yesterday that the Government planned to spend $10-15 million replacing the Taramakau Bridge, and $20-25 million improving Mingha Bluff, the last winding section of road on the Arthur's Pass highway.
A press release announcing both road projects was issued yesterday -- jointly in the name of the retiring party list MP Mr Auchinvole, and National's candidate Maureen Pugh.
Mr O'Connor said it was "pork-barrel politics", and to be expected.
"I expected the campaign to be quite dirty and nasty," Mr O'Connor said today.
"Indications are, that's where it is unfortunately."
He said the road funding announcement was a "blatant election bribe".
"I'm getting a little tired of being insulted time and time again by a party that thinks throwing a few token gestures at us will convince voters that they are doing us a favour. We've had massive job losses under our National Government management. Now they throw us a bone in the form of the Taramakau Bridge and passed legislation on wind-throw trees that still doesn't generate any benefits for our region," Mr O'Connor said.
"We are still yet to get any details on the Grey Base Hospital rebuild. They are shallow, empty promises."
He said National was desperate to cling to power.
Mrs Pugh, a former Westland mayor, said today it was always going to be a well fought race.
"I knew that. And I didn't enter to lose," Mrs Pugh said.
She had been impressed by how prepared the party was to get behind her, and the issues, in the electorate.
Green Party list MP Kevin Hague said the term "election bribe" seemed pretty accurate when it came to the weekend roading announcement.
When asked if the gloves were off here, he said "I think that's pretty well right".
"They are going to be pulling out these sorts of things (funding announcements)."
National Party West Coast-Tasman electorate chairwoman Anne Chapman said she thought National could take the seat.
"History repeats itself in time and I believe the time is right and Maureen Pugh is the right candidate," Mrs Chapman said.