Kiwi's adventurous fishing programme carries vital conservation message about sustainability.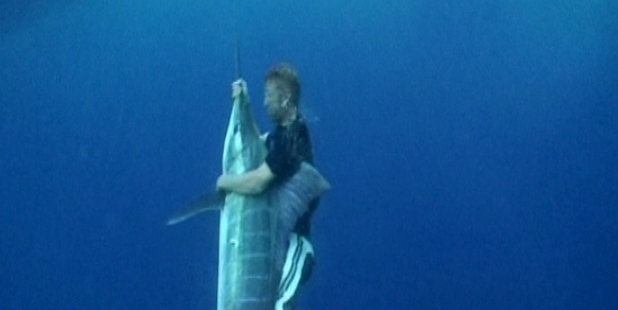 David Letterman once billed him as the "extreme fisherman" but Matt Watson sees himself as a custodian of the sea.
And his efforts to teach global sustainable fishing techniques have earned him a Sir Peter Blake Leadership Award.
From a sleepout at his home in Kerikeri, Mr Watson runs the ITM Fishing Show, a weekly programme which airs for half the year.
Watch: Matt Watson's ultimate fishing ute revealed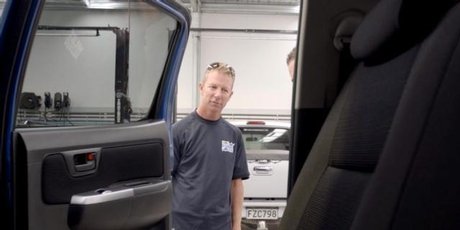 The 39-year-old combines his love of fishing and the ocean with adventure and conservation, hooking in viewers with his Steve Irwin-style stunts to convey the serious global threat from over-fishing.
A dive from a helicopter on to an unsuspecting swimming marlin, wrestling it to the surface, grabbed the attention of the world's media, including the Letterman show, in 2009.
The fame meant Mr Watson could push his message to stop plundering the ocean.
"If everyone was to go out and source their fish the way I do [by hook and line] the world's ocean would be teeming with fish."
Mr Watson wanted to follow his extended family into commercial fishing but a twist of fate turned him toward roof tiling and by the age of 22 he had built up a successful business with seven employees.
"But I just yearned to get back to the sea. I missed it and I needed it."
At 25, after realising some commercial fishing techniques were pillaging the ocean, he left South Auckland and followed his dream to Kerikeri, working on game fishing boats.
When he and his wife Kaylene had children, spending 200 days away at sea each year became impossible.
He decided to make a television show, even though he had no experience, and for years he and his small production company Tightlines Television made The ITM Fishing Show from the garage of the Watsons' Takou Bay home.
The theme of the show is about saving marine life.
"The biggest problem that faces the ocean is consumerism," he said.
He believes people don't realise three fish may have died for the one they're eating, with the sea floor damaged by a bottom trawler. He wants consumers to ask supermarkets how their fish are caught and believes New Zealand should follow Canada in naming the fisherman who catch each fish.
Mr Watson called the Blake Leadership award humbling.
Blake leaders
Six talented Kiwis were given Sir Peter Blake Leadership Awards on Friday. The Herald is profiling each winner this week.
Tomorrow: Medical recruitment company owner Sam Hazledine.