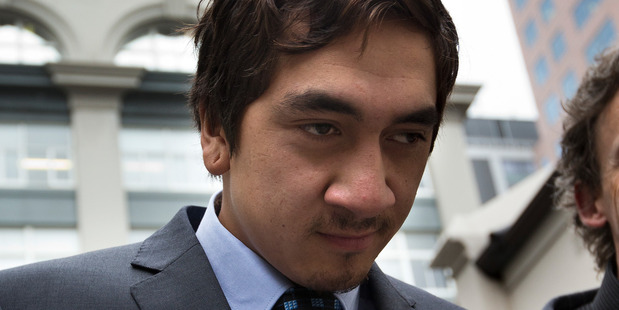 Three young men involved in criminal offending with the son of Maori King Tuheitia Paki after a drinking session in Gisborne earlier this year have walked free from court without conviction.
Te Ahorangi Totorewa, 20, Hamuera Wipoha Pugh, 19, and Raa Ngaru Smith, 18, were jointly charged with Korotangi Te Hokinga Mai Douglas Paki, 19, in March this year on two counts of burglary and one of theft from a car.
They had been drinking before stealing two surfboards, each valued at $800 and the property of Whakatane High School, from Waikanae Motor Camp.
They then drove to a Wainui Beach home from which they took another surfboard from a shed and other items - a cattle prod, designer hat and jacket (together valued at about $650) from a car.
All four subsequently pleaded guilty.
Paki will be sentenced in Auckland District Court on July 3.
The other three appeared in Gisborne District Court on Friday where Judge Geoffrey Rea ordered each to pay prosecution costs of $400 but otherwise discharged them without conviction or further penalty.
It was the first time in his 19-year career he had exercised his power of discretion to do so, the judge said.
None of the men's lawyers sought Section 106 discharges without conviction. All knew what he was bound by and that he could not grant them, the judge said.
But this was a special case. He had never before seen a situation where defendants and their families had done so much to try to make amends, he said.
Community work and supervision could have been imposed but neither was necessary.
The families were already providing supervision and a plan devised by Totorewa's father involved numerous community voluntary work hours, comparable to what a court might impose.
In the plan, released to the Gisborne Herald after a request to the judge, eight activities or steps towards amends were listed. They were for the young men to :
- Undergo a schedule of face-to-face Restorative Justice conferences with the victims.
- Undertake a voluntary work activity in which they applied Taa Moko designs for Te Hokowhitu a Tuu culture group's performance at a regional competition.
- Design and paint kowhaiwhai panels for a local total immersion school (work that was completed across five consecutive Fridays).
- Officiate at a local rippa rugby primary school league competition.- Set up a support group for people of Tainui descent within Tairawhiti.
- Attend weekly night classes in Maori weaponry and ancient incantations.
- Each engage with a community leader in a meaningful mentoring relationship.
- Each create a koha (gift) of a personal artwork to be donated to the affected parties of an organisation of their choice.
All activities had been completed except for the establishment of the Tainui group and completion of koha, both of which were under way, the court was told.
Counsels Alison Bendall (for Pugh), Charlotte Scott (for Smith) and Rikki Donnelly (for Totorewa), endorsed a probation service recommendation for supervision and agreed community work should be waived. There was nothing to be gained by sending these young people to work in the company of more seasoned offenders, they said.
The conviction would be significant punishment in itself and would continue to impact on their futures, counsels said.
Ms Bendall said her client had considered teaching but if convicted, would likely have to appear before the Teachers' Council before he could gain employment.
The offending was an aberration but history was littered with good people who had done bad things, she said.
These weren't young men who didn't care, they fully appreciated the impact of their offending and had been held to account for it by their families.
Of the defendants, Scott was the only one with any criminal background and it was dissimilar to these charges, the court heard.
Before passing sentence, Judge Rea looked at the men in the dock and told them he was not going to do what their lawyers wanted.
"You guys sat around, had some drinks until the alcohol affected you then went out on a mission to try to get some surfboards," the judge said.
"What I couldn't believe when this file came across my desk was the amount of work your families put in to try to get you sorted out," he said.
"And you yourselves have done all you can to put things right.
"Ms Bendall was right when she said you guys are future leaders. I hope that's right and I hope you don't do anything to affect that," Judge Rea said.
He asked them to consider how embarrassing their offending had been for their whanau, who had to sit and watch them in court. On exiting the dock, one of the young men thanked the judge. Some family members cried. Outside the courthouse, a large contingent embraced each other and expressed relief.
- The Gisborne Herald