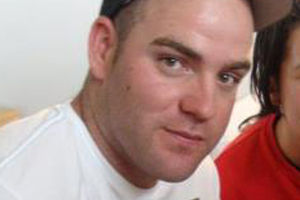 A grieving father is stunned at the sentences handed down to three men responsible for his son's death and says nothing has changed for his family.
Stoyan Militch, 32, Michael Zimmerman, 30, and Brayden Windley, 23, were sentenced in the High Court at Palmerston North this morning for their part in the killing of Levin father Michael Les Valentine.
They were each jailed and given their first warning under the three strikes law.
On February 1, 2012, the three offenders drove to Valentine's rural property to confront him over a toothbrush and computer hard drive. After an altercation, Militch stabbed Valentine in his right hand and then his chest, piercing his right lung.
Justice Ronald Young said Valentine had "bled to death quickly" as the three men offered no assistance and decamped from the property.
Militch, described as the "most culpable", showed little remorse, and was given a term of eight years and four months with a minimum non-parole period of five years.
Zimmerman was sentenced to seven years and must at least serve three years and six months. Windley was given five years with a minimum period of two and a half years.
After the sentencing, Valentine's step father John Timmer-Arends said he was stunned.
"As far as I'm concerned it's not enough...but given what the judge can do within the law I think it's reasonable."
He and his family had been through "17 months of hell" and no amount of time would change that.
"Even though the sentencing is now over, nothing changes for us."
Thirteen victim impact statements were provided but only four were read in court including one from Valentine's mother, Lynda.
"This is the last thing I can do for Michael...no one can understand the pain until you've had a family member [killed]. Nothing could prepare you for something so cruel."
She described the "terror" of lying awake every night reliving her son's last moments, and the pain she feels watching her grandson grow up without his father.
"This is a life sentence for us...I will never forgive them. I wish they were dead and not my beloved Michael."
Laura Hill, the mother of Mr Valentine's four-year-old son Luca, told the court her little boy had become overwhelmed with sadness, struggling with emotional problems both at home and at school.
"He is painfully aware...I asked how he felt on that day and he said to me, 'I have a headache and there is a pain in my heart that won't go away'."
All three men previously pleaded guilty to one charge of perverting the course of justice and were given a sentence of 12 months to serve concurrently.
For more articles from this region, go to Manawatu Guardian