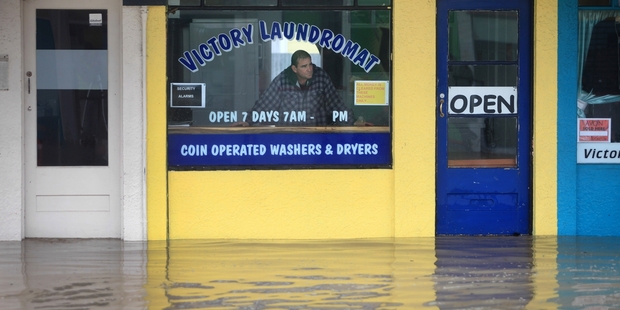 The storm that's battered the country over the last two days has run out of steam, but a separate thunderstorm could roll through Taranaki and Waikato later this evening.
Metservice meteorologist Rob Kerr said the worst of the storm that flooded Nelson streets had subsided, with heavy rain that moved across the Eastern Bay of Plenty and northern Gisborne today petering out by midday.
"And that was the end of that major event."
However, today's weather brought fresh warnings.
An active trough off the coast of Auckland soaked Great Barrier Island this afternoon, while a severe thunderstorm warning had been issued for Taranaki and coastal Waitomo - expected to hit later tonight.
"It might bring a few showers across Auckland this evening as well."
Further south, things were looking up following a sodden couple of days.
Apart from a few showers in the west, the South Island was largely clear, giving some Nelson residents a chance to clean up after muddy water washed through their homes.
Looking ahead, the country is heading into a much clearer weekend.
While temperatures will be cool, clear skies on Saturday morning will be a great opportunity to enjoy Matariki, Mr Kerr said.
"Eastern New Zealand, from Dunedin to Gisborne including Wellington and Nelson should have a starry start to Saturday, as well as patches of clear sky over the Bay of Plenty, Auckland and Northland."
The fine weather should hold for most of the weekend, but a strong northerly moving over the South Island on Sunday was expected to bring rain the West Coast, with the wind and rain moving over the North Island on Monday.
WeatherWatch head analyst Philip Duncan said winds in the South Island on Sunday could reach gale force.
"Basically we're in between systems this weekend, with the windy and wet weather from this week fading out on Saturday morning over the North Island but the next system will build conditions over the lower South Island later on Sunday" said head weather analyst Philip Duncan.
A slow moving front arriving on Monday would bring a narrow band of heavy rain to western areas and central New Zealand - lumping Nelson with its second dose in a week.
However, conditions were mild for this time of year and temperatures were above average, Mr Duncan said.
Meanwhile, Tasman District Council spokesman Chris Choat said things were "looking good" in the region despite the rain.
"All the water's gone, it's just a matter of cleaning up. Obviously there'll be some private homeowners that may be discussing factors with their insurance companies, but apart from that, infrastructure is back up, contractors are out cleaning up ... and all the roads are open."
- APNZ