Flash floods hit south, more rain expected in north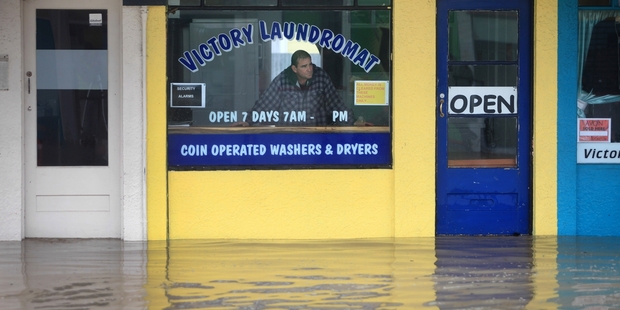 The Bay of Plenty and northern Gisborne were expected to bear the brunt of a large storm overnight which had already flooded streets and washed muddy water through other parts of the country.
The regions, where a severe weather warning was issued yesterday, may be in clean-up mode by midday today after a deluge in the past 24 hours.
MetService predicted up to 150mm of rain.
Weather permitting, a helicopter carrying a monsoon bucket will be used between Tauranga and Rotorua to drop upwards of 5000 litres of water on the road to flush out soft soil and vegetation to prevent slips.
Weather prevented contractors from finishing road safety works on State Highway 36 at Mangorewa Gorge yesterday.
The road will now be closed from 9am until 4pm today.
Rain was also expected for northern and eastern Northland.
Auckland was likely to miss the worst of the storm. MetService predicted fog would settle on the city overnight, and said that, after showers last night, a mostly dry day could be expected.
Some Nelson streets were flooded yesterday and muddy water washed through a number of homes.
Civil Defence said families in the Victory area were warned they may have to leave their homes until surface flooding receded. Wellington was battered by strong winds, with gusts reaching 90km/h in Kelburn. Rain had cleared in the capital by mid-afternoon, a MetService spokesman said.
He said the worst had now passed for the South Island.
Rain warnings were in place for Taranaki, and 100mm of rain was expected in the mountain ranges tonight, especially around the higher slopes.
A helicopter water drop is planned for a man kayaking from Australia to New Zealand at first light today.
The plans to help Scott Donaldson were brought forward because of "adverse weather", said helicopter Services pilot John Funnell.
He was 275 nautical miles from New Plymouth yesterday morning.
The storm's warm air was not expected to deliver much-needed snow to the skifields.
Some snow was likely on both islands, although no wintry blast was forecast at this stage, apart from a southerly change in the first week of July.
The opening of Whakapapa and Turoa skifields had been put off "until Mother Nature allows" which was expected to be at least a week, according to Mt Ruapehu spokeswoman Annah Dowsett.
Nelson gets flooding reprieve
After suffering widespread flooding yesterday, the Nelson region can look forward to a reprieve from the rain.
MetService duty forecaster Mike O'Connor said it was currently cloudy in the region and it was set to fine up as the day progressed.
"They might get a few showers this evening, but it's not going to be anything major really."
The Civil Defence Centre activated yesterday afternoon by Nelson Tasman Civil Defence Emergency Management in response to flooding in the Victory area of Nelson has now been stood down. The flood waters have receded to the point where immediate help is no longer required, Civil Defence said.
Drivers in the region were reminded to take extra care as road conditions were not ideal. Contractors were continuing to clear remaining debris from the affected roads.
The front which brought widespread rain to most of the country yesterday was now hanging over the East Cape of the North Island, Mr O'Connor said.
"It looks like it's pretty much east of Whakatane now. That should clear shortly after midday. Behind that we have a norwest flow and it's quite showery."
Overnight the 84mm of ran fell in the region. A weather warning was in place for the region until midday today, Mr O'Connor said.
"At the moment we've got quite a bit of low cloud and patchy drizzle over western areas of the North Island."
The drizzle was affecting the Waikato region, Northland, Waitomo, Taumarunui, Taranaki and Auckland, Mr O'Connor said.
Fiordland and Westland were set to be most affected by the weather today, with heavy rain and thunderstorms forecast.
"We also have a thunderstorm risk for Taranaki for late afternoon and this evening. There's a trough that goes over and showers become more frequent from late afternoon and the evening for much of the North Island."
Aucklanders could expect a cloudy day today with the odd shower lingering, Mr O'Connor said.
"From evening they're going to get some more frequent showers but it's not a huge episode."
Meanwhile, skiers and snowboarders may be in for a fresh dumping of snow on the country's ski fields.
Snow was forecast down to about 1200 metres in the South Island, Mr O'Connor said.
"It's not super low, but they definitely will be getting some in the upper mountains."
- APNZ