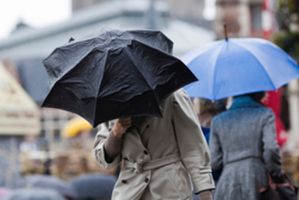 A storm is brewing but it won't be bringing much-needed snow to the skifields, forecasters say.
MetService has issued rain and wind warnings for many parts of the South Island and the Lower North Island. The frontal system across New Zealand over the next 24 to 36 hours would bring heavy rain to many parts of the South Island and strong winds.
"We have a rain warning in place for basically most of the west coast of the South Island - from northern Fiordland and right up to the ranges of Buller and western Nelson, and parts of Taranaki as well," MetService meteorologist Rob Kerr said.
"We've got a wind warning out for inland Canterbury, from the foothills of the main divide, Wellington and the Marlborough Sounds."
About 300mm of rain was likely to fall on the West Coast of the South Island, he said.
Taranaki was warned to expect a deluge of rain, falling at 25mm an hour.
From about midnight tonight winds around exposed areas of inland Canterbury were predicted to reach 150km/h, Mr Kerr said.
The capital could expect to be rocked with gusts reaching 130km/h from about 9am tomorrow and easing into the evening, he said.
"The winds are more ahead of the front, so the front by midday tomorrow is expected to be ... around Buller and over Christchurch.
"And then by midnight it should be a reasonable way across the North Island, just about through Auckland in the north and approaching Napier and Hastings further south."
The storm will bring with it warm air, meaning snow bunnies will have to wait a bit longer to hit the slopes.
Freezing levels will be about 3000m over the North Island and about 2500m over the South Island, Mr Kerr said.
WeatherWatch.co.nz head analyst Philip Duncan said the weather pattern had made for a very mild June in many parts of the country, especially the North Island.
"However as we head into July expect a southerly change which will lower temperatures nationwide."
Winter was about to hit the reset button to bring temperatures back to normal, he said.
Some snow was likely for ski fields in both islands, although no major wintry blast was in the two week forecast at this stage -- despite the southerly change in week one of July, Mr Duncan said.
Mt Ruapehu customer relations manager Annah Dowsett earlier said they had put off opening Whakapapa and Turoa skifields "until mother nature allows, which we expect to be at least a week".
"There is a reasonable snow cover on the upper mountain but we are still waiting for further snowfall and a period of colder temperatures before any trails are able to be opened," she said.
- APNZ