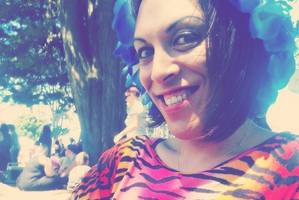 Police have revealed a transgender woman, who prompted an outpouring of support after reports she was bashed by three men, actually sustained her injuries falling out of a tree.
Anahera "Angel" Rangitaawa, 33, was found near the Copthorne Hotel in Palmerston North in the early hours of Sunday morning.
She had suffered critical injuries to her face, skull and other parts of her body and was taken to Wellington Hospital where she was put into an induced coma.
In a post on Facebook, her aunt Esther Topfer said Angel was attacked by three men.
"I am saddened and appalled that in the 21st Century ignorant, judgmental and evil people can smash a person to within an inch of their life for being who they are," she wrote.
The incident even prompted a statement from the Human Rights Commissioner.
However Manawatu Police today released a statement saying that following an investigation it was established Angel sustained her injuries from falling out of a tree.
Central police communications manager Sara Stavropoulos said as Angel was unconscious when she was found, it took until today to corroborate her story.
Police did not receive any complaints regarding an assault in connection with the incident, Ms Stavropoulos said.
It was unknown what Angel was doing in the tree prior to her fall.
Officer in charge of the investigation Detective Johnny Oram, said the investigation had been completed after police spoke to the victim's friends and local businesses.
"It appears the victim's injuries are not suspicious and were sustained after they fell from a tree they climbed.
"The scene examination and evidence also confirms this as well as the injuries sustained with the fall.
"The victim's family have been informed of the investigation outcome."
Angel remained in a serious but stable condition at Wellington Hospital.
"I want to thank the members of the public who called emergency services upon finding the victim and giving first aid," Mr Oram said.
- APNZ