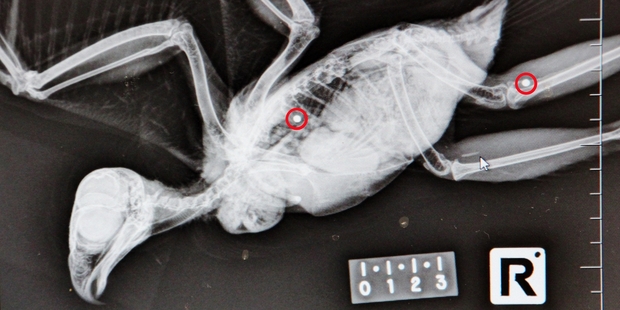 A native falcon may have lost some of its sight and will spend weeks recovering after being shot.
The karearea is being treated at Massey University's Wildbase wildlife hospital after being found motionless on the ground in Feilding.
The bird was taken to the SPCA, which then alerted the Department of Conservation.
Wildbase veterinarian Rebecca Webster said the bird was thought to have suffered head injuries, and an x-ray showed shotgun pellets in its body, one just 5mm from its heart and one in its leg.
The main concerns were head trauma and damage to the bird's eye.
"I'm not sure how he survived it," Ms Webster said.
"One of the pupils is not responsive and it looks like the retina is actually detached a little bit, which means he might not have 100 per cent vision and obviously they need their vision to be able to hunt.
"I'm very surprised that the bones aren't broken. Usually we would get big open wounds, infections and the bird slowly dying in the bush, so he's been very lucky."
The falcon was being treated to help to decrease brain swelling, and the veterinarians were not planning to remove the pellets as they were causing no harm.
It was expected to take several weeks for the bird to recover.
New Zealand falcons are found throughout the country but are classed as nationally vulnerable. The bird features on the New Zealand $20 banknote.
- APNZ